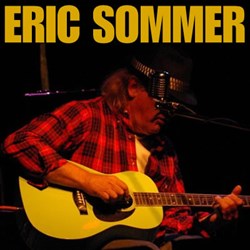 The energy, the free form approach, perfect timing and total control of the cyclone... Amazing stuff!!
Dick Smithers
City Jam Blog
Little Rock, AR (PRWEB) May 22, 2013
Eric Sommer pulls into Carrboro, NC Thursday, May 23rd for a 9pm show at The Station, then heads to Little Rock, Arkansas for a Sunday Night, May 26th, Memorial Day Concert at the venerable Midtown Billiards, a Mid-South showcase for touring music acts.
Mr Sommer is many things - a guitar player, poet, singer, song-stylist, composer and serial organizer, to name a few, and his live music show is moving to the top of a lot of lists. He's been at it a long time and played with many of the greats - David Bromberg, T-Model Ford, John Mayall, Jerry Douglas - as a solo artist, and his new record with trio The Solar Flares titled "RAINY DAY KARMA" is gaining notice in Nashville, Knoxville and London and Berlin.
He drives a Chevy that just hit 440,000 miles: smart money is on the Chevy to make it all the way. There are only a handful of artists who can survive on the road with a guitar and a few CD's and Eric Sommer is at the top of the list. Again.
Mr. Sommers' live show is hard to describe - 8 guitars, 6 amps of various shapes and sizes, a pedal board or two for the visual set, and for the ears it's a study in sonic feedback, bending and layered overtones... it other words it's something to see to believe.
Eric started his musical career in the Boston area and has been a regular player on many national tours and showcases. His influences are as diverse as Charlie Parker, Townes Van Zandt, Steve Earle, Steve Howe, The Beatles and The Ramones. Mr. Sommer's current project with power trio "The Solar Flares" shake up Chet Atkins and David Bromberg influences with those of ZZ Top and Elvis Costello - a remarkable mix.
With open tunings, slide guitar, lap-slap tone guitar and a remarkably aggressive fingering style approach, watching Eric Sommer will make you jump out of your seat and holler for joy! There are very few players who have maintained this authentic American style of guitar and Eric Sommer is one of the very best.
Amen.
____________________________________
For Music Samples please visit Eric Sommer online for additional schedules or contact him at eric(at)ericsommer(dot)com or call 202-255-1995. Additionally, you can find Eric Sommer on Facebook, too. RAINY DAY KARMA is also available on CDBaby.
Eric Sommer is represented by Clyde is Thinking, and PR programs are managed thru MTG/NY; For more information, promo/appearance requests or to set up an interview, please contact Tom Monihan 202-255-1995.