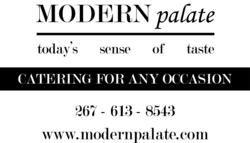 Doylestown, PA (PRWEB) May 23, 2013
Modern Palate delivers fresh, creative and healthy cuisine for any occasion. We are conscious of our ever-changing environment and understand the importance of preservation. We provide menus that are composed of seasonal, sustainable selections that are sourced from regional farms and suppliers. Modern Palate services Montgomery County, Bucks County, and Philadelphia.
The executive chef at Modern Palate has over 14 years experience in the food and hospitality industry. Raised in Bucks County and graduate of Johnson and Wales University, his passion for food and customer service has been at the forefront of his career. Additionally, he was apprenticed by Patrik Kimpel, whom was awarded a Michelin Star in 1994 and is currently the president of Jeunes Restaurateurs Deutschland.
Modern Palate provides catering services for graduation parties, weddings, social gatherings, corporate luncheons, and any type of celebratory or networking event. As we near graduation season, Modern Palate is offering a 10% discount on all services for graduation parties if a party is to be held in June, July, August, or September of 2013.
Please contact our Catering Sales Manager, Matt Felegyhazi, at 267-613-8543 or [email protected] for more information.
Click here to view our website.