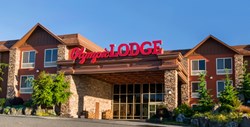 The Olympic Lodge in Port Angeles is a favorite lodging option for enjoying coastal town activities or visiting nearby parks and wild lands.
Port Angeles, WA (PRWEB) May 06, 2013
Port Angeles, on Washington's Olympic Peninsula, offers "the authentic Northwest" with attractions including beaches, temperate rainforests, wildlife, wineries, and plenty of summer festivities – as well as a popular ferry to Victoria, British Columbia, in Canada. Now the Olympic Lodge, conveniently located in Port Angeles to take advantage of all the area attractions, is offering complimentary downtown parking near the ferry for any overnight guests of the hotel planning to take the boat to Canada.
"Traveling to Victoria can create some logistical challenges, with planning to take a ferry across 17 miles of open ocean, remembering to bring the correct documents, and scheduling everything around two to four specific departure times," says Olympic Lodge General Manager Holly Dempsey, "so we decided to make the journey a little easier for our overnight guests with this ferry parking package that allows them to leave their vehicle in Port Angeles without worries for as many days as they plan to spend in BC."
The Olympic Lodge provides an ideal basecamp for travelers looking to enjoy the area's charms and nearby Olympic National Park with friendly hotel staff ready to recommend a hiking trail or restaurant – as well as help guests read the ferry schedule and offer complimentary parking. The Port Angeles travel experts at the Olympic Lodge offer these recommendations for summer visitors to the area:
1) Lavender Festival – Just outside Port Angeles, nearly 40 farms grow varieties of lavender, from Provence (ideal for sachets) to English (best for cooking). Now in its 17th year, the Lavender Festival, July 19-21, 2013, is timed to coincide with the lavender blooming, celebrating the aromatic herb in all its forms with farm tours, concerts, craft shows, and more.
2) Ride the Hurricane – For one morning a year – August 4 in 2013 – cyclists have Olympic National Park's famed Hurricane Ridge Road all to themselves. This recreational ride offers route options for riders of all abilities. $35
3) Olympic Discovery Trail – Outer sections of this mostly-paved trail are still under construction, but 60 miles in and around Port Angeles are completed. Ready for bikers, walkers and runners, five miles of trail heading east from downtown hugs the shoreline offering prime birding opportunities.
4) Concerts on the Pier – Regional and national musical and entertainment acts take to a temporary stage on Port Angeles' City Pier for concerts every Wednesday evening in July and August.
5) Complimentary Ferry Parking – From Port Angeles' downtown ferry terminal, boats head to Victoria, British Columbia. The 17-mile trip across the Strait of Juan de Fuca is an easy 55 to 90 minutes. Leaving your car in Port Angeles is now just as easy: Olympic Lodge recently began to offer complimentary overnight ferry parking for its guests.
Popular with travelers, the Olympic Lodge in Port Angeles is a favorite lodging option for enjoying coastal town activities or visiting nearby parks and wild lands. The hotel's staff can arrange bike or kayak rentals for active guests who'd like to bicycle the Olympic Discovery Trail, Ride the Hurricane, or test their paddling skills in the Strait or one of the nearby lakes. Tours of one or more of the area wineries, tickets to music events and more are also available through the Olympic Lodge staff. Summer rates range from $179.99 - $299.99 plus tax per night.
The Olympic Lodge is one of four properties in the Western Inns group, boutique hotels located near some of the U.S.'s most popular national parks from Yellowstone to Yosemite. In addition to the Olympic Lodge in Port Angeles, Wash., the group includes the Creekside Inn in Bishop, Calif., the Olympic Inn in Klamath Falls, Ore., and the Wyoming Inn in Jackson Hole, Wyo. Owned and operated by Tod McClaskey, the hotels are known for their outstanding customer service and comfortable accommodations. All of the properties are top rated on Trip Advisor. For additional information on the properties visit http://bit.ly/westerninnsportfolio.
Company Information: The closest gateway lodging to Olympic National Park and equally accessible to downtown Port Angeles, Washington, the Olympic Lodge provides outstanding customer service in addition to new, fluffy duvets, widescreen televisions, and a year-round outdoor heated pool and spa with views of the Olympic Mountains. It is Port Angeles's #1 TripAdvisor-rated hotel. For information, visit http://www.olympiclodge.com or call 800.600.2993.
Media Contacts: Holly Dempsey, Olympic Lodge General Manager, hdempsey(at)westerninns(dot)net, 360.452.2993; Darla Worden, WordenGroup Strategic Public Relations, darla(at)wordenpr(dot)com, 307.734.5335