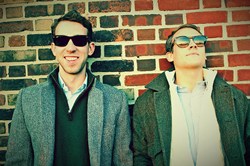 This is a collection that embodies a generation defined by people that are resourceful, adaptive, fashionable and, most importantly, conscious of the things they own. - Matthew Scalan, Co-Founder of Naadam Cashmere
New York, NY (PRWEB) May 01, 2013
Naadam Cashmere, the world's first socially and environmentally conscious cashmere fashion brand, has successfully launched a kickstarter campaign to help fund their mission. The company's innovative and disruptive approach is radically changing the cashmere industry by making cashmere more affordable to style-conscious individuals, while giving back to the nomadic Mongolian herders that are at the base of the supply chain.
In 2010, co-founders Matthew Scanlan and Diederik Rijsemus started the company after Diederik's eye-opening semester abroad in Mongolia. The demands of the cashmere industry coupled with severe weather shifts generated by climate change are affecting this region worse than anywhere else on the planet, killing livestock that harvest the cashmere fiber overnight and destroying the livelihood of thousands of nomadic herding families who are forced to move away and many times, thrust into a brutal life of mining.
Impacted by his experience, Diederik approached Matthew in their college dorm room to create a solution.
Naadam Cashmere's business model re-invests ten percent of all their profits into the World Bank's livestock insurance program, which protects Mongolian nomadic herders from climate-related loses to their livestock, allowing them to continue with their millenary tradition for generations to come. These traditional herding methods keep livestock on the move, promoting holistic grazing which prevents soil erosion, helps keep plants alive and adds nutrients back into the soil for a sustainable and environmentally friendly cycle.
Naadam's garments are designed in New York and manufactured in Mongolia by nomadic herders, using 100 percent Mongolian cashmere. "Naadam is designed to reflect our generation's nomadic lifestyle while at the same time fundamentally changing the luxury fashion industry," said Matthew Scanlan, co-founder of Naadam Cashmere.
"This is a collection that embodies a generation defined by people that are resourceful, adaptive, fashionable and, most importantly, conscious of the things they own."
Hundreds have already joined the movement and are making a difference by pledging to Naadam's Kickstarter page. With the campaign deadline approaching, Naadam hopes to continue the momentum to raise their goal of $150,000 to help transform the industry and make a remarkable impact on the lives of hundreds of nomadic herding families in Mongolia. Naadam will be selling garments at wholesale prices until May 15th, which is also the last day to contribute and become part of the movement.
"It's about more than sales," states Scanlan. "We're getting the word out about Naadam, but also telling the story of the Mongolian herders who carry this worldwide, multimillion-dollar industry, yet find themselves struggling at the mercy of worsening local economic conditions. They benefit from every garment sold. We make sure of it. And when you buy Naadam, you are a part of that."
Contact:
Matthew Scanlan
Naadam Cashmere
(203) 339-2570
info(at)naadamcashmere(dot)com
About Naadam Cashmere:
Designed in New York City and manufactured locally in Mongolia using 100% Mongolian cashmere, Naadam supports Mongolia's nomadic goat herders—the source of the majority of the world's finest cashmere—by investing a portion of profits in a World Bank-sponsored program that insures the herders' livestock as climate change and worsening economic conditions make it increasingly difficult for them to support themselves. When you buy Naadam, you are buying more than a luxury item—you are supporting local traditions, values, and families. Naadam is doing luxury differently. Find out more at naadamcashmere.com and visit the Kickstarter page at kickstarter.com/projects/naadamcashmere/naadam-nomadic-cashmere?ref=city