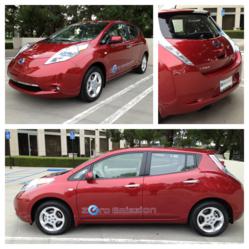 The right car can be an extension of your personality, highlighting your style and accentuating the qualities that are important to you.
SAUSALITO, Calif. (PRWEB) May 02, 2013
Cartelligent has released its list of top cars for summer driving. The service, based in Sausalito, California and with branches in Danville, San Jose and Irvine helps thousands of people purchase cars each year across all manufacturers. Its team of professional car buyers has put together a guide pairing their favorite summer activities with the best new vehicles on the market.
The right car can be an extension of your personality, highlighting your style and accentuating the qualities that are important to you. It can also enable you to live your life on your terms; to go where you want, when you want and to chase your interests.
With summer right around the corner and weekends to fill with activities, the car buying experts at Cartelligent have paired some of their favorite vehicles with some much-loved summer pursuits.
10. ACTIVITY: Mountain Biking
VEHICLE: Audi Allroad
With the traction of Audi quattro all-wheel drive, a spacious interior cargo space, aluminum roof rails and fuel economy of up to 27 mpg highway, the Allroad is a fantastic choice to get you and your bike out of the city and onto your favorite trail.
9. ACTIVITY: Weekend Retreats
VEHICLE: BMW 3-Series
The BMW 3-Series is an ideal vehicle to take on a weekend retreat with the one you love. Rated among Car & Driver's 10 Best Cars for 20 years running, the luxurious interior and responsive performance will make driving to your destination a pure joy, while the exquisite exterior will allow you to truly arrive in style.
8. ACTIVITY: Family Vacations
VEHICLE: Honda Odyssey
The Odyssey is a top pick for vacation plans including the entire family. It offers roomy seating and spacious capacity with the features and safety you expect from a Honda. Opt for the DVD Ultrawide Rear Entertainment System and you'll never have to hear them ask "Are we there yet?"
7. ACTIVITY: Wine Country Excursions
VEHICLE: Mercedes-Benz E-Class Cabriolet
Summer brings lush full grapevines to wine country and the E-Class has the responsiveness to handle the curves that the surrounding roads may bring while you luxuriate in its stylish interior. There's also a surprisingly generous trunk for any bottles you just have to bring home.
6. ACTIVITY: Surfing Trips
VEHICLE: Subaru XV Crosstrek
The XV Crosstrek offers surf-enthusiasts a flexible cargo area and raised roof rails for your boards and gear. The All-Wheel Drive and Vehicle Dynamics Control give you the capacity and confidence to find and explore off-the-beaten-path beaches.
5. ACTIVITY: Farmer's Markets
VEHICLE: Nissan LEAF
There's no better place than your local Farmer's Market to take advantage of the abundance of fresh summer produce. The Nissan LEAF can help you hold your head high among the eco-conscious without compromising on style or performance.
4. ACTIVITY: Summer Concerts
VEHICLE: MINI Cooper Convertible
The MINI's retro-curves and iconic history get you in touch with your inner rock fan as you speed along with the top down on your way to hear your favorite artists live.
3. ACTIVITY: Beach-Going
VEHICLE: Volkswagen Beetle Convertible
With its sporty handling and classic curves, the sunny Beetle convertible is perfect for summer trips to the beach with friends. You can add even more nostalgia to the trip by opting for one of the limited edition 50's, 60's or 70's models.
2. ACTIVITY: Hiking
VEHICLE: Jeep Wrangler
The trail-rated 10th Anniversary Jeep Wrangler Rubicon may make getting to your destination more fun than the hike itself. With Rock-Trac 4WD and steel off-road bumpers there is next to nothing the Rubicon can't handle.
1. ACTIVITY: Simply Driving
VEHICLE: Porsche 911
If you're just looking to enjoy the drive, the Porsche 911 is an ideal choice. Its 350 hp engine can take you from 0 to 60 in 4.6 seconds with a top track speed of 179 mph. The only thing missing is an on-ramp to the Autobahn.
We welcome inquiries about this list or about car buying in general. To set up an interview with one of our experts, please contact Jessica Carstens at 415-339-4562 or email jcarstens(at)cartelligent(dot)com.
About Cartelligent: For over thirteen years, Cartelligent has connected car buyers with the new car they want, at the right price. Thousands of satisfied clients have saved time and money while avoiding the hassle of the traditional dealer experience by working with Cartelligent to help them enjoy the car buying experience like never before.