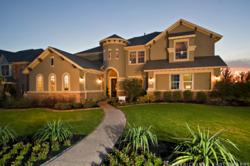 "As the demand for quality communities continues to grow, we're confident that Travisso will offer Austin home buyers the type of community they long for in Austin: highly-rated schools, quality homes, ease of access to work and hill country views."
Austin, Texas (PRWEB) May 02, 2013
Taylor Morrison of Texas and Toll Brothers (NYSE:TOL) have purchased more than 2,100 acres of land in Leander, Texas, from Texas-based The Lookout Group as the Austin home builders work to build on the success of nearby developments and the resurgent housing market.
Situated adjacent to Crystal Falls, one of the top three volume master-planned communities in Austin according to Metrostudy, the new master-planned community will be named Travisso and is being brought to market through a partnership between Taylor Morrison and Toll Brothers by summer 2014, company officials said.
When finished, Travisso will include more than 2,900 home sites of various sizes marketed towards a wide array of consumer groups, 355 acres of open space, a trail system, a 58-acre regional park, 42 acres of commercial land. and multiple opportunities for future Leander ISD schools.
The purchase comes at the right time for Taylor Morrison, said Austin Division President Tim Towell, who points to Leander's 250 percent increase in population since 2000.
"As the demand for quality communities continues to grow, we're confident that Travisso will offer Austin home buyers the type of community they long for in Austin: highly-rated schools, quality homes, ease of access to work and hill country views," Towell said.
Towell said he anticipates both Taylor Morrison and Toll Brothers leveraging their brands and master-planned community experience to create the next premier community in Austin. Taylor Morrison has a history of developing successful master-planned communities, including Steiner Ranch in Austin.
The announcement of the Travisso partnership officially marks the re-entry into the Austin market by Toll Brothers.
"We are very excited about bringing the Toll Brothers brand back to Austin, Texas," said Robert G. Paul, Toll Brothers Division President. "Travisso embodies all of the elements we look for in a new home community: a great location, excellent schools, close proximity to employment centers and all of the recreational options offered by living in the Texas hill country."
Bill Hinckley, managing partner of The Lookout Group, said Travisso will benefit home owners throughout northwest Austin, where demand for home sites has risen in recent years.
"We are 100 percent confident that the Taylor Morrison/Toll Brothers partnership will deliver a first-class community," said Hinckley, who spent 15 years assembling the land that will become Travisso and had originally planned to develop the project as an extension of Crystal Falls. "This deal will allow The Lookout Group to spend more time focused on the commercial and custom home offerings we have in Crystal Falls."
Situated in Texas Hill Country west of Austin and just north of Lake Travis, Travisso home buyers will find plenty of shopping and entertainment near the community, with Lakeline Mall, Round Rock Premium Outlets and 1890 Ranch Shopping Center all nearby. In addition, the 6,800-seat Cedar Park Event Center is a short drive from Travisso, as is 18 holes of golf at the acclaimed Crystal Falls Golf Club.
In addition, Cedar Park Regional Medical Center is less than 10 miles from Travisso, with three additional major hospitals within 20 miles of the community.
Employment centers are also close to Travisso, with the the largest private employer in Austin, Dell, just minutes away and downtown Austin a convenient trip via Capitol Metro's new commuter rail station in Leander, which connects the community to downtown Austin.
"Travisso will add a new dimension to living in Texas Hill Country," Towell said. "We're setting a new standard for what home owners should expect out of their next community."
For more information about Taylor Morrison and its communities, please visit http://www.taylormorrison.com. For more information about Toll Brothers, please visit http://www.tollbrothers.com.
About Taylor Morrison
Headquartered in Scottsdale, Arizona, the Company operates in the U.S. under the Taylor Morrison and Darling Homes brands and in Canada under the Monarch brand.  Taylor Morrison is a land developer and builder of single-family detached and attached homes serving a wide array of customers from first-time buyers and move-up families to luxury and active adult customers. Taylor Morrison divisions operate in Arizona, California, Colorado, Florida and Texas.  Darling Homes serves move-up families and luxury homebuyers in Texas. Monarch, Canada's oldest homebuilder builds homes for first-time buyers and move-up families in Toronto and Ottawa as well as high rise condominiums in Toronto.
About Toll Brothers
Toll Brothers, Inc. is the nation's leading builder of luxury homes. The Company began business in 1967 and became a public company in 1986. Its common stock is listed on the New York Stock Exchange under the symbol "TOL." The Company serves move-up, empty-nester, active-adult, and second-home buyers and operates in 19 states: Arizona, California, Colorado, Connecticut, Delaware, Florida, Illinois, Maryland, Massachusetts, Michigan, Minnesota, Nevada, New Jersey, New York, North Carolina, Pennsylvania, Texas, Virginia, and Washington.
Toll Brothers builds an array of luxury residential communities, principally on land it develops and improves: single-family detached and attached home communities, master planned resort-style golf communities, and urban low-, mid- and high-rise communities. The Company operates its own architectural, engineering, mortgage, title, land development and land sale, golf course development and management, home security, and landscape subsidiaries. The Company also operates its own lumber distribution, house component assembly, and manufacturing operations. The Company acquires and develops commercial properties through Toll Commercial and its affiliate, Toll Brothers Realty Trust, and purchases distressed loan and real estate asset portfolios through its wholly owned subsidiary, Gibraltar Capital and Asset Management.
Toll Brothers is honored to have won the three most coveted awards in the homebuilding industry: America's Best Builder from the National Association of Home Builders, the National Housing Quality Award and Builder of the Year. Toll Brothers was awarded Builder of the Year for 2012 and is the only two-time recipient. Toll Brothers proudly supports the communities in which it builds; among other philanthropic pursuits, the Company sponsors the Toll Brothers Metropolitan Opera International Radio Network, bringing opera to neighborhoods throughout the world. For more information, visit http://www.tollbrothers.com.
About The Lookout Group
The Lookout Group are investors and developers of master planned and residential communities throughout central Texas. Contact Bill Hinckley at (713) 524-5263.