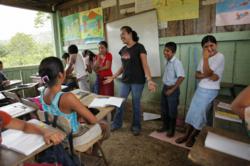 The Grid Earth Project does not believe that a child should risk their safety in order to learn.
Peten, Guatemala (PRWEB) May 09, 2013
About 30 miles south of Peten lies a wonderful school designed for children who live in the jungle and have no other school to attend. Originally an orphanage, this school was rebuilt after the orphanage burned due to a candle that was left unattended. Several children died as a result of the tragedy. Hearts in Action along with the Rotary Club of Peten and others have worked together to bring this school up to a standard unequaled in Central America.
Although the school offers the students a wonderful opportunity to learn, none of the students have electricity in their homes and are forced to study by dangerous kerosene lamps or candle light. "This greatly hampers their ability to learn," said Pedro Cano, Principal.
The Grid Earth Project is working to change that with help from the 1% Club.
Donations made to this project through the 1% Club or directly through the Grid Earth Project website can be directed to help each student at the Jungle School receive their own solar lamp suitable for lighting a 10-square-foot room.
Each lamp has three settings for different uses. For reading, it will produce eight hours of light on the brightest setting, or for less demand 16 hours on medium, or 80 hours on low. They are self contained lamps that are easily portable. They even charge on cloudy days.
The distribution of these lamps is expected to help the more than 300 students of the Jungle School excel and reach their full potential.