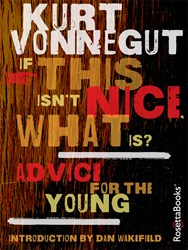 It's always an honor to recall Kurt Vonnegut's voice and share it with so many of his avid readers. - Dan Wakefield
New York, NY May 1, 2013 (PRWEB) May 01, 2013
RosettaBooks, the leading independent eBook publisher, released a compilation of master storyteller Kurt Vonnegut's commencement speeches entitled If This Isn't Nice, What Is?: Advice for the Young.
The leading wordsmith of his time, Vonnegut was also the most in-demand commencement speaker, known for his satirical witticisms and unique perspective.
"RosettaBooks is proud to enhance Vonnegut's legacy by introducing generations of readers to Kurt Vonnegut's thought-provoking style," said Arthur Klebanoff, CEO of RosettaBooks.
Edited by longtime friend of Vonnegut, Dan Wakefield, the compilation reads like a narrative. The celebration of what Vonnegut called "the long-delayed puberty ceremony" will inspire recent graduates as well as those whose college years are long ago.
"It's always an honor to recall Kurt Vonnegut's voice and share it with so many of his avid readers," said Wakefield.
Vonnegut's ability to craft language with razor-sharp humor and poignant reflection secured his place next to Mark Twain in the American literary canon. His bestselling novel Slaughterhouse-Five was inspired by his experience as a German prisoner of war during World War II.
In addition to editing the latest release, Wakefield edited and wrote an introduction for the bestselling volume of personal correspondence entitled Kurt Vonnegut: Letters. He also authored Going All the Way and wrote the script for the movie based on it, starring Ben Affleck.
A prolific writer, Vonnegut published novels, short stories, essays, plays, articles, speeches and correspondence, some of which only became available posthumously.
A WeJIT, an online collaboration tool created by technology solution provider Democrasoft, was embedded in the eBook, allowing readers to connect with each other around the discussion topic of "What's your favorite Kurt Vonnegut quote?" The interactive link can also be shared on social media platforms. Join the discussion here: http://www.mywejit.com/#!vonnegut.
"E-books are rapidly evolving and we are excited to be working with RosettaBooks in this exciting project," said Richard Lang, Democrasoft CEO.
About RosettaBooks: RosettaBooks is the leading independent eBook publisher. RosettaBooks publishes such timeless classics as Brave New World, Slaughterhouse-Five, the collected works of Arthur C. Clarke, The 7 Habits of Highly Effective People, and the complete works of Winston Churchill. RosettaBooks has published ten Kindle Singles, including Ray Bradbury's The Playground, nine of which are Best Sellers. RosettaBooks can be found on Facebook. For more information, please visit RosettaBooks.com.