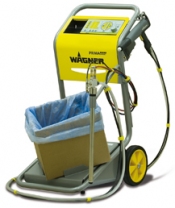 I cringe when I see business owners investing in brand-name booths and curing ovens, then throwing away their money on cheap coating guns.
Birmingham, AL (PRWEB) May 03, 2013
Leading powder coating equipment provider, BoothsAndOvens.com, has extended the company's most popular sales promotion of the year. Customers purchasing qualifying powder coating equipment packages through the website will receive a free Wagner powder coating gun.
Franklin Slaton, whose company operates the BoothsAndOvens.com website, says the goal of the promotion is to put professional quality powder guns into as many new powder coating shops as possible. "One of the most critical decisions a new buyer can make is choosing the right equipment. Our company understands that every penny counts when you're just starting out, but I cringe when I see business owners investing in brand-name booths and curing ovens, then throwing away their money on cheap coating guns. Cutting corners on your coating gun can have a disastrous effect on your coating business. If you are serious about producing high quality results, you need a high quality gun. This promotion makes the decision simple: when customers buy the best in Reliant equipment, they'll get a professional Wagner powder coating gun - for free."
Wagner's Prima Sprint coating guns are engineered specifically for high quality and/or high volume manual powder coating operations. The Prima Sprint coating gun available through the BoothsAndOvens.com promotion uses a box-feed system that allows for quick color changes to reduce downtime. Intuitive controls are easy to learn, and the unit can store up to fifty recipes for a variety of powder coating situations. With its lightweight design, robust construction and dependable performance, the Wagner Prima Sprint powder coating gun is a perfect solution for demanding manual coating applications.
BoothsAndOvens.com features powder coating ovens, spray enclosures and media blast rooms from Reliant Finishing Systems. Reliant is the leading manufacturer of batch powder coating systems in the United States, with hundreds of systems in operation worldwide. Reliant Finishing Systems' ovens and booths use the latest technologies to provide one of the most efficient and reliable products on the market, and are designed for industrial powder coating applications where performance and dependability are critical. Reliant offers products in all standard sizes for industrial applications and also provides custom manufacturing for manual or automated systems for any size finishing operation.
BoothsAndOvens.com is offering a free Wagner Prima Sprint box-fed powder coating gun to any customer who purchases a Reliant powder coating system that includes at least $40,000 of additional equipment. Customers may purchase any combination of powder coating oven(s), spray enclosure(s) and media blast room(s) that totals at least $40,000 in order to qualify. To take advantage of the offer, buyers must place their orders under deposit no later than May 31, 2013.