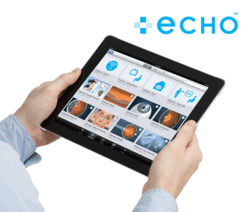 "The HTML5 optimization of ECHO is our solution for helping our clients streamline the video presentations on their websites as well as the viewing platforms that their patients are using." - Jeff Peres, Eyemaginations President and CEO
Baltimore, MD (PRWEB) May 01, 2013
Leading patient education provider Eyemaginations announced today the immediate availability of ECHO, the company's new cloud-based and HTML5 optimized software solution for patient education. With enhanced video quality and speed, ECHO is a simple solution that allows healthcare professionals to communicate with patients from any Internet-based device.
Originally unveiled at the American Society of Cataract and Refractive Surgery (ASCRS) and American Society of Ophthalmic Administrators (ASOA) Symposium and Congress held in San Francisco last month, ECHO offers a vast library of peer-reviewed medical content that can be used to create presentations on specific topics and shared with patients everywhere they are thinking about their health. ECHO's full library of videos is HTML5 optimized, providing maximum audio quality, accelerated video speed and enhanced functionality for online viewing. The ECHO platform is broadly compatible and video content can be viewed on PCs, iPads, iPhones, and Android devices.
"Recent studies show that nearly 75% of the browser market now supports HTML5 video," said Jeff Peres, President and CEO of Eyemaginations. "As a result, our clients are constantly striving to create a richer Web experience for patients and provide more universal functionality across different browsers. The HTML5 optimization of ECHO is our solution for helping our clients streamline the video presentations on their websites as well as the viewing platforms that their patients are using such as a PC, Mac or iPad."
Current Eyemaginations clients are encouraged to contact their account manager at 877.321.5481, option 5, to learn more about switching to ECHO at no additional cost. All other interested parties can request a free demo of the software by visiting the Eyemaginations website on the Take a Demo page or by calling Eyemaginations directly at 877.321.5481.
About Eyemaginations
Eyemaginations, Inc. is a healthcare media company focused on solutions that support professionals, patients and corporations in communicating and understanding complex topics. The company's in-depth experience with animation, design and software has enabled Eyemaginations to create integrated systems that provide clear and concise education solutions. Eyemaginations has a comprehensive solution for eyecare, ENT, audiology and facial aesthetics. Eyemaginations may be reached by phone at 877.321.5481, email at info(at)eyemaginations(dot)com or online at http://www.eyemaginations.com.