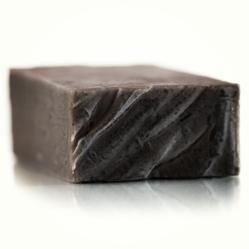 A good facial soap should be designed to clean deeply, yet gently, without stripping the skin of it's barrier lipids.
Carbondale, CO (PRWEB) May 01, 2013
Osmia Organics, a new line of natural and organic soap, skin care, and perfumery, released a new article today about two types of black soap, and their respective benefits for the skin. The company's founder, Dr. Sarah Villafranco, became increasingly intrigued by the soap as she came across a surprising number of claims that it had helped people with skin conditions such as eczema, psoriasis, and dermatitis. In this short article, she explains the traditional, African method of making black soap, as well as the reasons it can be helpful for the above skin conditions.
For many years, "black soap" has caught the interest of consumers who suffer from various skin issues, starting with simply dry skin, and ranging all the way to more complex dermatological diagnoses. The soap has a near-mystical reputation among its devotees, which may be founded in, at the very least, some anecdotal evidence. The article examines reasons why the African soap might be helpful for alleviating some of these skin conditions, based on its component parts.
Dr. Villafranco, who has perioral dermatitis herself, then worked to develop a different version of the soap, based on her research and experience with her own skin. Her goal was to take the facts about African Black Soap and combine them with current-day, cold-process soapmaking techniques. Without losing the artisan process used by Osmia and many other independent soapmakers, Dr. Villafranco hoped to create a consistently reproduceable, domestically-made product with many of the same attributes, specifically designed for the face. "I loved the idea of using black soap, from the mystery of it to its notably high mineral content. But I wanted to create something of our own, which we could produce in predictable way, using as many certified organic ingredients as possible," says Villafranco.
Also explained in this article is the manner in which some of the ingredients (in both recipes) act on the skin. Ultimately, it seems to come down to moisture - helping skin cells retain water is one of the paramount goals of cosmetic formulation, and a high mineral content is one way of doing that.
Generally speaking, facial soap is steadily gaining popularity - making a comeback of sorts. While commercial face soaps of the last few decades have earned a reputation for being drying, loads of of smaller, artisanal companies are helping people understand that a handmade, natural soap can be more moisturizing than many liquid cleansers on the market today. Says Dr. Villafranco, "There is no reason to assume a face soap in bar form will be more harsh than a liquid cleanser. With the right process and carefully chosen ingredients, a bar soap can strike the perfect balance, and it doesn't come with unnecessary chemicals and a plastic bottle to throw away."
This article clearly explains the differences and similarities between time-honored, African Black Soap and Osmia's recently developed Black Clay Facial Soap. The benefits of each variety are considered, and the consumer is then left to make a more educated decision.
For more information, or to purchase the soap, please visit http://www.osmiaorganics.com.