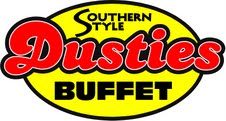 Eat free at Dusties buffet on your birthday.
Chicago, Illinois (PRWEB) May 01, 2013
Dusties Southern Style Buffet announces the free companion ticket "Getaway Giveaway." Treat Mom to an all-you-can-eat Mother's Day brunch & a grand buffet with over 100 down home delicious Southern style items, made from scratch.
This Mother's Day any mom can eat a wide selection of mouth watering Southern style cuisine, inclusive of fiery salads and flavorful deserts, for a great all-you-can-eat-price. There are over 100 items to choose from at Dusties. Dusties is open for brunch 8am-12pm and the grand Mother's Day buffet is offered from 12p-10p. Additionally, any mother who comes with a party of 8 or more from the hours of 8am-10pm will get a companion travel ticket at no cost, redeemable with any direct or round-trip flight that is purchased by the person flying with mom. The person who is flying with mom must have a direct or round-trip ticket with a minimum value of $399.00. Mom flies for free with this Mother's Day 2013 gift from Dusties. The companion ticket for Mom is redeemable for any flight on the three major airlines to anywhere in the continental United States. Dusties is a perfect place to celebrate Mother's Day in Chicagoland.
Dusties has been, barbequing, baking, smothering and frying Southern style meats, chickens and fish for nearly 20 years. Dusties also serves a Mother's Day Grand buffet with over 100 items that include a large assortment of vegetarian and Southern style side dish staples. Dusties specialties include Southern style sides like Collard greens, mixed greens and cabbage greens, all with smoked turkey. Dusties also serves macaroni and cheese made with four cheeses, spaghetti with round turkey, smothered pork chops, homemade peach and apple cobblers, baked tilapia, grilled catfish and of course, much much more. There are also unlimited refills of juices and soft drinks.
Dusties Southern Style Buffet is one of Chicago's South Suburbs most recognized American restaurants, known for its innovative and fresh southern home cooking cuisine, paired with a hip crowd and celebrity following. Dusties Southern Style buffet has a seating capacity of 350 and is a popular stop on Lincoln Highway in Matteson, Illinois. Dusties is the brainchild of restaurant mogul Kenneth Lewis owner of Chicago's legendary Kenny's Ribs & Chicken franchise.
This Mother's Day, Dusties is helping the community, friends and family giveback to Moms of the world. Dusties is the perfect place for your 2013 Mother's Day celebration.
Dusties is located at 4012 Lincoln Highway in Matteson, Illinois 60443. Call us at 708-228-5500.