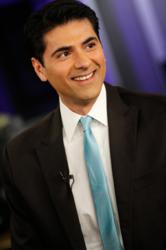 The cellulose in the cinnamon, if it goes into your lungs, cannot be broken down…it just sits there.
Beverly Hills, CA (PRWEB) May 01, 2013
A weekly feature on Fox's popular morning news show, Good Day LA, Sonu Ahluwalia, MD, educates the public about the latest news in health and wellness. During Monday's segment, Dr. Ahluwalia reported on new breathalyzers that test for other drugs in addition to alcohol.
"There are statistics to show that almost 18 percent of fatal car crashes are due to things other than alcohol," said Dr. Ahluwalia, a surgeon at La Peer Health Systems in Beverly Hills. "If you take a Percocet or a Vicodin, how long are you impaired? We don't know the answer to that."
Along with alcohol, the new breathalyzers test for various controlled substances including cocaine, heroin and marijuana. In the past, urine samples were necessary to test for these drugs. While police will likely use these tests during traffic stops, the new breathalyzers may soon be available to consumers as well. Already, a Smartphone app and device are to be out this summer to test breath for alcohol. Dr. Ahluwalia recommends that anyone who goes out to drink should purchase a kit to test himself.
"These are things that may help save lives," said Dr. Ahluwalia.
The board-certified orthopedic surgeon also spoke about a new online craze known as the Cinnamon Challenge, in which participants attempt to swallow a spoonful of the spice. Attempted by celebrities, children and even politicians, the challenge poses a number of serious dangers.
"The cellulose in the cinnamon, if it goes into your lungs, cannot be broken down…it just sits there," said Dr. Ahluwalia, adding that consuming cinnamon in this manner may lung scarring and even collapse.
"Bring it up [with your kids]," Dr. Ahluwalia advised. "See if this is something that they're thinking about doing."
Watch the entire news segment with Dr. Ahluwalia on My Fox LA.
For more health tips from Dr. Ahluwalia, as well as videos of his other FoxLA segments, visit his Facebook page.
Sonu Ahluwalia, MD, is an internationally-acclaimed board-certified orthopedic surgeon at La Peer Health Systems, as well as the Clinical Chief of Orthopaedic Surgery at Cedars Sinai Medical Center in Beverly Hills. His private practice specializes in sports medicine, shoulder, knee and hip surgery.
Dr. Ahluwalia completed his orthopedic training at the Harvard Combined Orthopaedic Surgery Residency Program in Boston, one of the most sought after training programs in orthopaedic surgery. He has completed three fellowships, two at Harvard Medical School and one at Lenox Hill Hospital in New York City, on shoulder surgery, sports medicine, and joint replacement and joint preservation surgery. For more information please call 310.659.2910 or visit http://www.Ahluwalia.org.