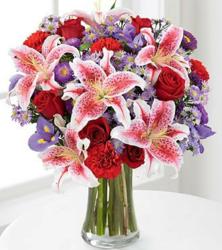 Atlanta, GA (PRWEB) May 01, 2013
Peachtree Petals, a leading new Atlanta Florist and FTD Master Florist, announces free same-day delivery for Mother's Day. The announcement comes in an effort to promote their flower deals, increase web traffic and sales growth for the national holiday. Peachtree Petals has established itself as a premier florist and pursues to be the best choice for floral services nationwide.
Peachtree Petals will provide same-day delivery within the Atlanta and Metro Atlanta areas. This is one of their well-known competitive advantages within the floral industry. Customers will not experience any additional charges during the big holiday. From assorted Mother's Day gift baskets to stunning Mother's Day flowers, the Atlanta Florist will provide free delivery the entire week of Mother's Day, including the weekend.
The floral shop's same-day delivery is performed within a 5-hour window time. For rush service deliveries, Peachtree Petals will perform the delivery within a 2.5-hour window timeframe. The rush service is an additional $8.99. Customers will receive via e-mail a confirmation of their order. They will also receive an e-mail once their Mother's Day floral arrangement is picked up and when it is delivered. To ensure an arrangement is delivered on the day desired, customers are recommended to submit their order by the 12th of May.
With Mother's Day at the door, Peachtree Petals has already listed a variety of flowers for Mother's Day to select from on its website. Within the "Flower" link on the homepage, there is currently a Mother's Day Flowers page for customers who would like to shop and place their orders in advance. For customers who do not find a Mother's Day floral arrangement to their liking, Peachtree Petals can create a custom-designed Mother's Day bouquet just for them as well.
Peachtree Petals is a recognized leading florist, able to meet any of your floral needs. From headquarters in Atlanta, Georgia, Peachtree Petals provides floral services from quality floral arrangements, and wedding bouquets, to wedding consulting, and assorted gifts throughout the US. The Atlanta florist offers high-quality flowers with a standard free delivery of all bouquets in the Atlanta and Metro Atlanta.