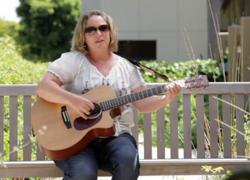 I felt bad when I realized I was going to miss it, even more so when I found out they were auctioning off a date with a local fireman. I just love how our community comes together for the greater good.
Oceanside, California (PRWEB) May 02, 2013
When Shirley Anderson, wife of CEO Larry B. Anderson and Farrah G. Douglas,
VP/ Executive Director of the Tri-City Medical Center Foundation called Ali, she was thrilled by their invitation to speak at the foundation's annual "Fashion That Heals" benefit.
Ali Gilmore knows firsthand how important using the latest in medical technology is when treating life threatening illnesses. She attributes being alive today to the use of advanced medical technology such as Cyber Knife radiotherapy on her left lung, where the cancer had spread, dubbing her stage IV, back in the fall of 2010.
The only problem is that on Saturday, May 4th, Ali won't be in Carlsbad (where the event will be held), not anywhere near it. "I'll be smack dab in the middle of a music festival in the town of Spiddal, on the west coast of Ireland," Ali said.
As Ali notes in Chapter 13 of her cancer survival book, The C Card and Me, "Having something grande like this to look forward to once the treatments were over really helped me to get through it all." said Ali.
Ali endured 18 cycles of intensive chemo over a period of 18 months.
The solution was to video tape Ali's testimonial and incorporate one of her original songs into the video as her tribute to all those involved in saving her life (and her lung).
"Fashion That Heals" is an annual event the Tri-City Hospital Foundation hosts, benefiting women's health programs. This year it will feature a champagne luncheon with a trunk show and a runway show showcasing today's hottest designs. The goal, to raise $350,000 for a state of the art, Mammography machine.
"I'm a huge advocate for cancer prevention and I received the best of care at Tri-City Medical when I went through all my cancer related surgeries and procedures, so I was genuinely glad for the opportunity to help." Ali said.
In addition to her testimonial, Ali donated 65 copies of her cancer survival guide to the event, encouraging local attendees to subscribe to her feed on Facebook, where she regularly checks in at local restaurants and venues. "I can be shy at times, but I'm honored when people ask me to sign the book. It makes me feel like my message is being heard and it's helping people to be less afraid and better prepared to fight to win." Ali said.
Ali also assigned a proxy to bid up to several hundred dollars on the "date with a fireman" auction item.
As a digital photographer and certified geek, Ali can relate to the value of this particular advancement. "Digital Mammography is more sensitive, so it detects cancer with greater accuracy and provides instant results. No waiting for film to develop, means time and lives are saved." Ali said.
About Fashion That Heals:
Saturday, May 4, 2013 at the Hilton Carlsbad Oceanfront Resort & Spa
Dan Cohen, 3-time Emmy award winning news anchor at KFMB-TV, the CBS affiliate in San Diego will be Emcee.
Fashions will be provided by Chico's, J. Jill, TRE Boutique, Lululemon, JoS A Banks, Coldwater Creek, Talbots and others. Models will include local breast cancer survivors and the dedicated employees of Tri-City Medical Center.
To purchase tickets or learn more about sponsorship opportunities, please call Tri-City Hospital Foundation at (760) 940-3370.
About Ali Gilmore:
Aside from being a stage IV cancer survivor, Ali is a freelance photographer, singer/songwriter, geek and author of the cancer survival guide, The C Card and Me – How I beat stage IV cancer (to a pulp). Originally from Seattle, Washington, she now resides in the coastal town of Oceanside, California. Find out more about Ali at: http://www.aligilmore.com
###