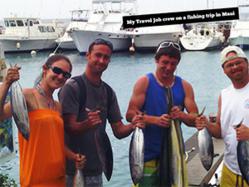 I learned more about selling and confidence in that year than I have learned in the several years since.
(PRWEB) May 01, 2013
Positions are currently available through My Travel Job. Working for My Travel Job opens up many opportunities; imagine venturing across the country, traveling with enthusiastic people, and gaining great experiences along the way.
My Travel Job creates a unique opportunity for young adults to get their foot-in-the-door while still enjoying their work in an exciting setting. Just this past November, the company opened 300 positions to recent graduates alone. According to many sources, My Travel Job creates a lasting impression and a chance to grow both personally and professionally.
"I spent a year selling Pro-Tek for US Custom Cleaner. I learned more about selling, and confidence in that year than I have learned in the several year since." said Finance Manager, Beau Harry.
Not only do these jobs offer a great way to enhance your experience but it also awards incentives for employees to win vacation trips and bonuses. Work for a company that you can benefit from. Gain experience through sturdy sales teams who can teach fresh sales people knowledge impossible to teach within a classroom.
Eddie Sebastian, owner of Sebastian Enterprises Inc. says, "I learned responsibility, good work ethics, how to manage money, to manage a sales force. After two years of loyalist to the company I decided to start my own enterprise. I took the knowledge and information I learned and put it into effect. Best move of my life. Today I am the sole owner of Sebastian Enterprises Inc."
While working for My Travel Job, employees will sell Pro-Tek chemicals and Eco-Orange cleaners. Both of these cleaning agents are very powerful yet, environmentally friendly.
Job requirements include: self-confident individuals, people willing to tour, people who are highly energetic, and applicants must be 18 years of age or older. Those who are interested may apply online at mytraveljob.com.
About Pro-Tek and Eco-Orange
For over 30 years each of these companies has been providing the best eco-friendly cleaners to households internationally. Both brands are leading names in the environmental cleaner industry. With over millions of customers, they provide a great alternative to harsh and chemically threatening cleaners.
For more information about My Travel Job please go to their website mytraveljob.com or call 970-773-4483.
###