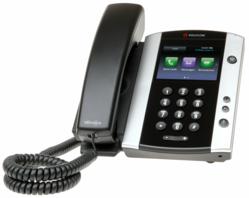 MADISON, Wis. (PRWEB) May 01, 2013
"In this period of slow economic growth and reduced spending on basic telecommunications and IT services, many enterprises will find that purchasing managed services is a cost-effective alternative to increasing internal staffing." This quote appeared in a new study from Insight Research Corp. and was published in the Wall Street Journal recently. It highlights the benefits of VoIP services like TDS managedIP Hosted.
Jennifer Sherman from Flagship Insurance in Winsted, Minn. talks about TDS managedIP Hosted and how it's helped her business.
Starting today, TDS Telecommunications Corp. (TDS®) is building on the idea that managed services can solve business problems. To encourage businesses to make the switch, TDS is offering customers the opportunity to buy the VVX 500 business media phone for only a penny when they upgrade to managedIP Hosted.
The VVX 500 is loaded with features like its 3.5 inch LCD display. The VVX 500 combined with managedIIP Hosted is a powerful business tool and makes multitasking easy. From now until May 31 you can get the phone your employees want for just a penny.
TDS managedIP Hosted service gives users the ability to click to answer. If the phone rings employees can still reach over and pick it up the old fashioned way. But if employees are crunched for time and need to keep their head buried in their computer they can send the call straight to voicemail with the click of a mouse.
Users can also decide how to take calls. Need to step away from the desk? Users can set their desk phone to ring their cell phone and never miss a call.
Technology and the business world are constantly changing. Gaining an advantage can be tough. Here's an opportunity to get a leg up while keeping costs down.
Visit tdsvoip.com/voip-specials for more details.
For more information contact: Cindy Tomlinson, Associate Manager of Public Relations / TDS Telecommunications Corp. / 608-664-4471 / cindy.tomlinson(at)tdstelecom(dot)com
TDS Telecommunications Corp. (TDS®) is the seventh largest local exchange telephone company in the U.S. Headquartered in Madison, Wis. it is a wholly owned subsidiary of Telephone and Data Systems, Inc. For 44 years, the company has been connecting people with high-speed Internet, phone, and TV entertainment services in over a hundred rural, suburban, and metropolitan communities across 32 states. Today, TDS has nearly 1 million customer connections in service and 2,900 employees. Business customers select from the latest technologies, including: VoIP (managedIP Hosted) phone service, dedicated high-speed Internet and hosted-managed services. Visit tdstelecom.com or tdsbusiness.com for more information.
TDS Telecommunications Corp. also manages the operations of TDS Hosted & Managed Services, LLC (TDS HMS) which consists of OneNeck IT Services Corp., Vital Support Systems, and VISI Inc. TDS HMS is a wholly owned subsidiary of Telephone and Data Systems Inc. The business unit is growing rapidly; now employing more than 500 people throughout the U.S. TDS HMS companies specialize in engineering and management of IT infrastructure, including: hosted application management, managed hosting, and ReliaCloud™ enterprise cloud services. TDS HMS owns and operates Tier 3 data centers in Iowa, Minn., and Wis. Visit oneneck.com, vitalsite.com, visi.com, and reliacloud.com for more information.
Telephone and Data Systems, Inc. [NYSE: TDS], a Fortune 500® company, provides wireless; broadband, TV and voice; and hosted and managed services to approximately 7 million customers in 36 states through its business units, U.S. Cellular, TDS Telecommunications Corp., and TDS Hosted & Managed Services. Founded in 1969 and headquartered in Chicago, Telephone and Data Systems and its subsidiaries employ more than 12,000 people. For investment information, visit teldta.com.