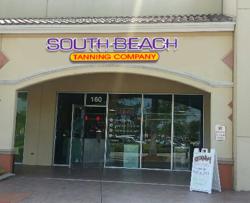 ...We've already had discussions with the landlord about doubling the size of the facility...
Wellington, FL (PRWEB) May 02, 2013
South Beach Tanning Company has continued its salon conversion program by acquiring an existing salon in the Wellington Green Shopping Center next to LA Fitness in Wellington, FL. Brian Hibbard, South Beach Tanning Company's founder and current president states, "The Wellington market is a very affluent and sought after market, one in which we have little or no significant competition. In addition to the full renovation and all new state of the art equipment, we have already had discussions with the landlord about doubling the size of the facility based on how well our metrics are indicating this location will perform." This location will be purchased and run by one of South Beach Tanning Company's existing franchisees, Patti Martel. "Patti is an extremely good operator. She is the one who identified this location as an ideal conversion candidate, and we believe this location fits perfectly into her long-term plans of being a multi-unit operator. We have no doubt that, under her management, this location will outperform any competition in the area," says Hibbard. The salon will remain open during the conversion process, which should take about 30 days to complete.
This is the second South Beach Tanning franchise for Patti Martel, and she can't wait to get started. When asked about her interest in this particular location, she said that the area is very health conscious and she thought it would be a great fit for South Beach. "This area is so vibrant and health and fitness oriented—and being next to LA Fitness couldn't have been a better fit. I'm so excited about this location. I think it's going to do very, very well." Patti has been with South Beach Tanning for a little over a year and she has enjoyed every minute of it. Her current location in Lake Worth, Florida, was opened in October, 2011, as a corporate location; she bought it as a franchise in February, 2012. "This is such an awesome franchise," says Ms. Martel. "Brian is so helpful. I don't know how I could have gotten this second location together without him. I am really looking forward to being in this new space."
ABOUT SOUTH BEACH TANNING COMPANY
South Beach Tanning is headquartered in Orlando, FL, and operates salons throughout Central Florida, Tampa, South Florida and Charlotte, NC. Founded by Brian Hibbard, a CPA, South Beach Tanning has been in business since 2003, and at the time of this press release, has never closed a location in its 10-year history. Individuals interested in a franchise opportunity with the South Beach brand, or existing salons looking to convert to the South Beach brand, should contact their Franchise Sales Director at 855-844-8377 or visit our franchise website at http://www.southbeachtanningfranchise.com.