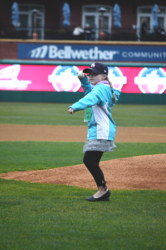 (PRWEB) May 07, 2013
Tessa Sobolewski, age 8, was recently honored as a recipient of the Bellwether Community Champion award, presented to individuals who have made a positive impact on the lives of others and their community. On April 19th, Sobolewski threw out the ceremonial first pitch at a New Hampshire Fisher Cats game and was celebrated during an on field pregame presentation.
Tessa is engaging her community with a collection of toys and games for the Nashua Children's Home, an organization that provides care and stability to boys and girls unable to remain with their families, special education services for students who have not been successful in public school settings, and supportive housing for youth that have "aged-out" of care. Her eyes were opened to child poverty during her recent participation in theatre productions of A Christmas Carol and Oliver. Her involvement in these shows prompted Tessa to take action and make a difference in her own community.
Tessa wrote a letter to Nashua Children's Home and they responded by offering a tour of the facility and providing a list of items for the 22 boys and 20 girls who benefit from the services provided by the home. Because providing toys and items for 42 children (mostly teens) was more than Tessa could handle on her own, she has reached out and inspired others to collect as many items as possible on the home's wish list. Tessa is working with her Brownie Troop, local businesses, friends and family on a toy collection for the Nashua Children's Home.
Tessa resides in Windham, NH.
Who is a Bellwether Community Champion?
The Bellwether Community Champion program was launched in 2011. Since that time dozens of individuals have been recognized for their contributions. These Champions represent a true cross-section of New Hampshire. We have had the privilege of recognizing the efforts of young children, teens, teachers, business people, and parents who have stepped outside of their everyday lives to take action, go the extra mile and do the unexpected to make a difference in our community. Simply, a Champion is a person who has made a difference in our community. If you know of someone who has done something beyond the expected to help others, please complete a nomination form by stopping at a Bellwether branch, visiting http://www.bccu.org, or the NH FisherCats website at http://www.milb.com and searching for Bellwether Community Champion!