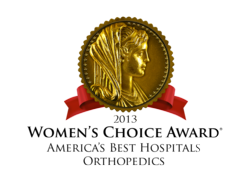 This award was created to empower women to make smart healthcare choices and to build her confidence in hospitals delivering a trusted healthcare experience rated by women
HOLLYWOOD, FL (PRWEB) May 01, 2013
WomenCertified®, the home of the Women's Choice Award, has announced its list of America's Best Hospitals for Orthopedics. This hospital designation is based on robust criteria that include female patient satisfaction measurements as well as clinical excellence considerations.
The announcement of the America's Best Hospitals for Orthopedics is timely as today is the first day of National Osteoporosis Awareness and Prevention Month. In women over 45 years of age, osteoporosis accounts for more days spent in the hospital than many other diseases, including diabetes, myocardial infarction and breast cancer according to the International Osteoporosis Foundation. "This award was created to empower women to make smart healthcare choices and to build her confidence in hospitals delivering a trusted healthcare experience rated by women. And considering 200 million women worldwide will be affected by bone health issues this is an important opportunity for us as consumer advocates to help her find trusted sources for bone care," says Delia Passi, CEO of WomenCertified and former publisher of Working Mother magazine.
Hospitals qualify for this highly selective annual list based on an objective proprietary scoring process. The scoring incorporates a national, standardized survey of patients' perspectives of hospital care reported by the U.S. Department of Health and Human Services (Hospital Consumer Assessment of Healthcare Providers and Systems) and an analysis that weighs criteria identified as the most important to women for patient satisfaction and clinical criteria. Additionally, the scoring incorporates WomenCertified's in-depth research on customer satisfaction among women, including a joint study on customer satisfaction by gender conducted with the Wharton School of the University of Pennsylvania.
"We are proud of those hospitals recognized for taking ownership of their customer experience and creating an environment that offers the best in healthcare services. We congratulate our winning hospitals for having earned the trust of our country's most significant consumer group," said Passi.
America's Best Hospitals for Orthopedics, who partner with WomenCertified to empower women, carry the Women's Choice Award seal and include:
Baptist Health Paducah (Paducah, KY)
Baptist Medical Center Beaches (Jacksonville Beach, FL)
Baptist Medical Center Jacksonville (Jacksonville, FL)
Citizens Medical Center (Victoria, TX)
Catawba Valley Medical Center (Hickory, NC)
Frye Regional Medical Center (Hickory, NC)
Jefferson Regional Medical Center (Jefferson Hills, PA)
Parrish Medical Center (Titusville, FL)
Queen of the Valley Medical Center (Napa, CA)
Saint Joseph Hospital (Kokomo, IN)
Saint Mary's Hospital (Athens, GA)
San Antonio Community Hospital (Upland, CA)
Santa Rosa Memorial Hospital (Santa Rosa, CA)
The Christ Hospital (Cincinnati, OH)
Virginia Hospital Center (Arlington, VA)
The full list of 363 awarded hospitals is available at http://www.WomensChoiceAwards.com.
About WomenCertified®
WomenCertified® is the home of the Women's Choice Awards, The Voice of Women. The Women's Choice Award is the first national award based on the recommendations and preferences of women. We are the source for women seeking credible recommendations. Our hundreds of thousands of members each share a lifetime of experiences as a woman and vote for businesses and brands that are meeting their high expectations. Awards are based on surveys of thousands of women, as well as research conducted in partnership with the Wharton School of the University of Pennsylvania on what drives the consumer experience for women vs. men. To learn more, visit http://www.womencertified.com.