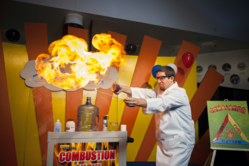 Space Center Houston Education Department teaches the value of Science Beyond the Rockets!
Houston, Texas (PRWEB) May 01, 2013
Space Center Houston Education Department- NASA's Johnson Space Center's official visitors center is doing its part in encouraging Houston area youth to engage in science, technology, engineering and math (STEM), on May 2nd and 3rd from 10am to 3pm. Under the direction of Dr. Melanie Johnson, the Director of Education, Space Center Houston is expecting over 2,000 students from Houston area schools to participate in the two day "Combustion" series that will feature demonstrations of combustible materials to teach the Physics of combustion. Students will be wowed by extreme stunts, amazing gravity-defying physics and live performances.
For eight years, Space Center Houston Education Department has engaged thousands of school groups in the wonders of Physics by using practical and exciting activities to teach Physics. This year's guest include Steve Wolf, Science In The Movie http://www.scienceinthemovies.com a live performance revealing the exciting ways science is used to create cinema explosives, movie stunts and special effects. Students will also be entertained while educated by Whacky Chad's http://www.wackychad.com extreme pogo skills, a bike demonstration and stunts by Art Thomason and a Hip Hop Dance Performance by Young Audiences of Houston, Fly Dance Company http://www.yahouston.org. Jamie Salinas (http://www.magicbyjamie.com/4.html) will also entertain attendees through his magic and the art of illusion.
Each annual event is a giant opportunity for Dr. Melanie Johnson and her staff to study how effective different methodologies on engaging students to persist in the study of science, technology, engineering and math (STEM). As a result of a student focus group highlighting the interest of school age students and sports, last year's theme was "Sports-tacular". "Although we host several thousand students on each Physics Day, the events are always driven by the study of what inspires students to gain a more thorough understanding of Physics as well as value Physics as an enjoyable science even beyond the Rockets", said Dr. Johnson.
The events are scheduled to take place at Space Center Houston, 1601 NASA PARKWAY (formerly NASA Rd 1), Houston, Texas 77058 from 10am-3pm. Volunteers are welcomed to contact the center directly. For more information please visit http://www.spacecenter.org/SchoolVisitsSpecialDays.html. To schedule interviews, contact Johanne Cadet at (786)529-1139 or via email at Johanne(at)iownpr(dot)com.
ABOUT THE SPACE CENTER HOUSTON
Space Center Houston is a 501(c) (3) nonprofit Education Foundation is a place where people can experience space -- from its dramatic history and exciting present to its compelling future. Space Center Houston is the premier place on Earth that gives guests an out-of-this-world journey through human adventures into space. Space Center Houston's unparalleled exhibits, attractions, special presentations and hands-on activities tell the story of NASA's manned space flight program. SCH is of the few places in the world where visitors can see astronauts train for missions, touch a real moon rock, land a shuttle, and take a behind-the-scenes tour of NASA.At Space Center Houston, guests can understand the past, experience the present, and be a part of the future of the space Program.
# # #