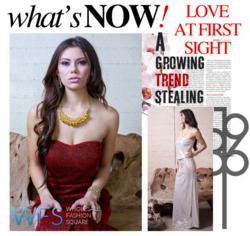 Fashion And Quality At The Best Price
(PRWEB) May 06, 2013
All the fashions and styles offered are current. Seasonal items are also offered with an eye toward emerging trends.
"Our buyers spend time watching fashion trends and what fashion trade shows have to report. This is one reason we made the decision to expand our selections," Mrs. Kremerman said. "Some companies at the shows were launching products we felt needed to be in our inventory."
WFS offers more than just clothing. The company has perfumes, cosmetics, accessories and jewelry.
"We understand that clothing is not the complete ensemble. A well-dressed lady wants everything to be exactly perfect from the bottom of her shoes to the top of her head. We cannot do anything about hair styles, except for accessories of which we have a wide selection," he said. "We even have accessories for your accessories like cell phones."
Spring fashions are the most current items on the site.
WFS, wholesalefashionsquare.com , offers the most current fashions to ladies of all sizes at prices well below those of traditional brick and mortar stores. Mrs. Kremerman said WFS achieves this by having one central warehouse and conducting all sales business online.
"This means we have far less overhead than a typical clothing stores. Where big stores must employ legions of sales people, display clothes on easy-to-access racks and have huge amounts of space for shoppers to move through, we have one warehouse with our merchandise neatly packed away," he said. "Our shipping crews pull orders, box it and ship it out to customers."
"This is wholesale so our items are sold in bulk. An order of shorts, for instance, is six shorts. Sunglasses come 12 to the case," he said. "A lot of our customers get together with friends and make large buys. When their products arrive, they have a party and separate the big order into what each person actually wanted from the order."
WFS concentrates on ladies' clothing but does have some for men.
"This selection is a bit more limited because men's fashions change more slowly than ladies," Mrs. Kremerman said. "We are looking for ways to expand our selection.
With any purchase of $100 or more, shipping is free. Any purchase of $99 or less is shipped at a flat rate of $9.95.
WFS can be followed on Facebook and Twitter. Videos of the various fashions can be seen on YouTube.
WFS' marketing efforts have been handled by ngamarketing.com since 2008. The strategic partnership has worked very well for both companies. NGA has brought in new customers and WFS has seen its bottom line and customer rolls grow tremendously.
ABOUT WHOLESALE FASHION - Wholesale Fashion Square exists to bring our customers the best selection of top quality fashion apparel and accessories at the best prices. Located in the heart of the Los Angeles fashion scene, we always carry the finest designer-inspired apparel sourced from hundreds of local manufacturers and importers from around the world. We purchase our stylish clothing, jewelry and fashion accessories in bulk, so we can pass the savings along to our customers, at prices well below wholesale.
For more information or to see daily and weekly deals, please visit http://www.wholesalefashionsquare.com .