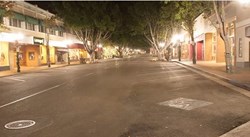 Attracting good workers]. It's really an important part of today's economic development.
Riverside, CA (PRWEB) May 03, 2013
John Harrison said the city's plan for sustainability began after attending the U.S. Conference of Mayors discussion of sustainability in 2007. Returning from the conference, he put together a committee of residents and experts in different fields in order to develop a plan that would fit Redlands' specific needs. Using the Best Practices Framework from the Institute for Local Government, the committee worked out their own agenda. The councilman said the framework "gave a structure" to their plan focusing on 10 issues including, energy efficiency, renewable energy, land use, and transportation.
Part of Redlands' land use strategy is called the Emerald Necklace, separating the city from surrounding urban sprawl by use of a natural green belt. The project also seeks to enhance the quality of life for its residents by developing more open areas for parks and recreation. Harrison said the idea has been around for 20 years and helps, "to attract good employees and the workers of the next century." He said, "It's really an important part of today's economic development. What we're finding is that rather than going somewhere (else) looking for jobs, their first step is finding a community in which they want to live and that offers the kind of amenities that they're seeking. They want to a have a city that's inviting, that they can bring their families."
Redlands participates in California Green Community Challenge. According to their website, the program "fosters innovative ways for participating cities to reduce carbon emissions and energy consumption while building vibrant, sustainable communities." Harrison said the challenge was about competition between cities and "who could do the most to make their city more sustainable, more energy efficient." One of the actions Redlands has taken in the challenge is to implement a large scale change to LED lighting city-wide. An analysis was made to see if it would pay off before several hundred lights were switched to LEDs. Harrison says it will save about 30 percent on the city's electric bill.
The city has also tripled its use of PV solar panels in the past three years. Utilized, both commercially and by private residences, they play a big part in reducing fossil fuel dependency, as well as providing jobs. One commercial installation may require up to 30 workers. "Green jobs are up by eight percent," he said, "while job growth in the traditional labor force has only risen one percent." For electricians, technical trade workers, inspectors, engineers and designers, technologies like PV panels and electric vehicle (EV) charging stations provide well-paying jobs that require a skilled and professional work force. "They need some real skills. They need to understand the dangers. These charging stations are all very high voltage," Harrison said. "If you don't set it up so that the customer can use it carefully and correctly, you could create some real problems."
The councilman also said it is important that local and state governments support and promote the use and accessibility of EV charging stations. He says the lack of these stations is a stumbling block to growing an electric vehicle fleet. "They need to work with local businesses as well. Certainly, there need to be incentives for them to participate and make it possible for a large employer to attract those employees. Again, a part of the quality of life that looks to a forward thinking sustainable business; the kind of place I want to work, the kind of place I want to shop."