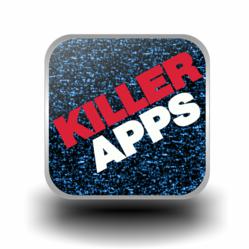 "Keeping mom up to date on the hottest trends and gadgets is a must!" says Emmy Award winning Tech and Trends reporter Brett Larson, tech host of KillerApps.TV.
West Palm Beach, FL (PRWEB) May 06, 2013
With over 80 million moms to shop for, Mother's Day is second only to Christmas when it comes to gift giving. "Keeping mom up to date on the hottest trends and gadgets is a must!" says Emmy Award winning Tech and Trends reporter Brett Larson, tech host of http://www.KillerApps.TV.
Audiences were given insight into what's trending among moms everywhere...something for the DIY or craft loving mom, a look at the latest e-reader to tablets for taking her entertainment on the go, sitting back and relaxing to a heartfelt comedy, and all while enjoying a slice of cheesecake with a refreshing spring flavor.
Here are four "Killer Apps" perfect for any mom this Mother's Day.
1. Sears Tools has a unique and memorable gift idea for moms this Mother's Day - pink tools! Now through May 12, get up to 20% off all Original Pink Box tools and storage at Sears. The Original Pink Box line combines high style with high quality. Extremely versatile and not just for DIY-ers, it is great for crafters, chefs and more. Learn more at http://www.sears.com.
2. Kindle Family – Kindle, Kindle Paperwhite, Kindle Fire HD 7", Kindle Fire HD 8.9". Kindle Paperwhite (starting at $119) is Amazon's most advanced e-reader with a higher resolution, higher contrast touchscreen, built-in light and 8-week battery life. Its patented built-in front light evenly illuminates the screen for reading in all lighting conditions. Kindle Fire HD (starting at $199) provides a vivid, rich viewing experience with a stunning HD display, exclusive Dolby Audio and access to more than 23 million movies, TV shows, songs, magazines, books, apps and games. Kindle Fire HD also includes Kindle FreeTime – a free, personalized tablet experience just for kids where parents can set daily screen limits, and give access to appropriate content specific for each child. The $69 Kindle is for readers who want the lightest, most compact Kindle at an incredible price. At six ounces, it's lighter than a paperback and still holds over 1,000 books. Visit http://www.amazon.com/kindle for more information.
3. Available on Blu-ray and DVD just in time for Mother's Day is The Guilt Trip starring screen legend Barbra Streisand and comic master Seth Rogen. The two-disc set comes packed with over an hour of hilarious bonus features including featurettes on Barbra Streisand and Seth Rogen, a look inside Barbra's world, an alternate opening and ending, over 10 deleted scenes and an uproarious gag reel. The film is also available as a single-disc DVD. For more information on this heartwarming comedy, please visit http://www.guilttripmovie.com
4. Give Mom something that will surprise and delight her this year for Mother's Day, a gift from America's favorite restaurant The Cheesecake Factory! Gift cards in almost any amount can be purchased at a Cheesecake Factory restaurant or ordered online and sent directly to mom's door. eGift cards are also available and make a perfect last minute gift, as they arrive directly into mom's email inbox. All online gift card and eGift card purchases can be made at http://www.thecheesecakefactory.com.
To find more information about everything featured, visit "Killer Apps" at http://www.killerapps.tv
About News Media Group, Inc.
News Media Group, Inc. produces original programming about the hottest new technology and trends hitting the market through the KillerApps.TV website. They produce a number of Satellite Media Tours and Ground Media Tours that fit the media calendar throughout the year to introduce TV and Radio station audiences to the latest tech products and applications. Visit http://www.newsmg.com
Contact:
News Media Group, Inc.
Jennifer Rivera
jrivera(at)newsmg(dot)com