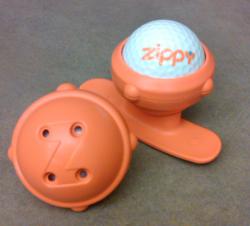 Stress relief and muscle tension relief is great when I utilize this therapy tool on my head, back of my neck, shoulders and - yes - my feet!!
Phoenix, AZ (PRWEB) May 02, 2013
Zippy Rolling Ball Therapy devices are now available at Arizona Therapy Source and Bunky Boutique in Phoenix, joining a growing list of outlets in the west. Welcome to the Zippy family.
Arizona Therapy Source, 4015 N 16th St, Phoenix, AZ 85016 is all about professional entrepreneurship and perfectly serving their clients. Since the early days their team has extended its passion to sell premium quality goods to professional therapists and physical therapy, OT ,and chiropractic practices. Through the years they've managed to create one of the most famous brands in our country and now are glad to share our products in their store and online. Recognizing the potential for professionals to use Zippy RBT devices with clients as well as providing much needed self-care opportunities to the professional therapist, Arizona Therapy Source continues to lead the way in presenting Zippy devices to their large and growing client base. http://www.aztherapysource.com
Bunky Boutique, 1437 N 1st St, Phoenix, AZ 85004, is an exciting women's clothing, jewelry, and accessories shop located in downtown Phoenix has added Zippy RBT devices to their product line. Their apparel is mostly from LA designers and many accessories come from the Northwest, while most of their jewelry is made by local artisans; they work with 10-20 different local designers. Bunky Boutique tries to find items that are unique and interesting, and they love supporting independent companies and working with other small businesses. The owner is an avid runner who has been using her Zippy RBT device regularly and wants to make the amazing devices available to her customers for their active life styles. http://www.bunkyboutique.com
Zing Partners LLC manufactures, and distributes the Zippy Rolling Ball Therapy massage device line which is made in the USA. Easy to use Zippy devices are a big hit with everyone who tries them and hundreds of devices are used daily by athletes, personal users, and professional therapists for peak performance, relaxation, and exceptional therapy. Zippy massage tools relax sore muscles and joints, sooth pressure release points, untie "knots", and bring cleansing cardiovascular and lymphatic circulation through soft tissue mobilization. Each "patent pending" Zippy tool permanently houses a golf ball in a precision molded shell for easy grip and comfortable handling. Zippy RBT devices come in three models: the Basic, the Rocker Handle, and the T-Handle. The Rocker and T-Handle models extend grip opportunities and provide integrated therapy tools for expanded functionality. Zippy RBT devices are compact, convenient to carry and use, readily accessible in golf bag, purse, pocket, glove box, nightstand, and sports bag. Excellent to use when frozen for "spot on" cold therapy. Please visit http://www.zippymassage.com for more information.
Zippy Rolling Ball Therapy massage devices are available online at http://www.zippymassage.com and on Amazon. Check out the Zippy RBT YouTube Channel. http://youtu.be/ajJWhzr1c5M. Visit Zippy RBT – Rolling Ball Therapy on Facebook and "Like". Follow @ZippyRBT on Twitter.
Zippy Rolling Ball Therapy devices have been submitted for the 2013 Core77 Design Awards.
Zing Partners LLC will donate $5 to Hoil Heroes Foundation to assist pediatric transplant patients and their families through August 31, 2013 for each device purchased online.