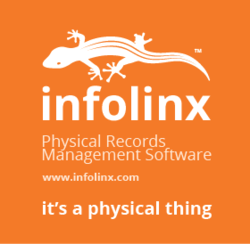 Kensington, MD (PRWEB) May 16, 2013
Today, Infolinx™ System Solutions, a leading provider of enterprise physical records management software, announced that they would be exhibiting at the 29th Annual ARMA Canada Conference and Expo in Saskatoon, SK from June 2-5, 2013. The conference theme is "Mining RM Resources". This year's conference is an excellent opportunity for learning and networking, while providing the vision and tools necessary to take on new RIM challenges at home. Boasting over 300 acres of riverbank parks and trails to explore, and with more hours of sunshine than any other major Canadian city, Saskatoon is a nature-lover's delight.
Infolinx supports many existing clients in Canada including the Ottawa-Carleton School Board, the Waterloo Regional School Board, Mt. Pearl, the Town of View Royal and the Capital Regional District. Working with technology partners Laserfiche, Ricoh, MC Imaging, and File IT, Infolinx offers a unified physical and electronic corporate records solution to its clients. The integrated solution manages the life-cycle of corporate records, regardless of media type, while streamlining the processes surrounding document management and workflow.
Visit booth 13 for additional information or to see a demo of the unified solution.
About Infolinx™
Infolinx System Solutions is a leading provider of DoD5015.2-certified enterprise physical records management software. Full life cycle records management for archives, records centers and file rooms includes integrated Enterprise Content Management, third-party warehouse integration, robust searching, online requesting, complete audit history, location reconciliation, supply item ordering, retention schedule and legal holds management, integrated RFID technology, space management with charge-back functionality, extensive reporting capability, advanced security configuration, workflow email notifications, and legacy data sharing. Available as an on-premises or cloud-based solution, Infolinx maintains clients within all major business segments and the public sector. Infolinx System Solutions Demo.