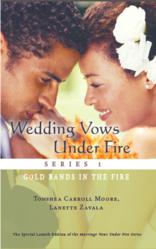 We wanted to give a unique storyline in the genre of romance.
(PRWEB) May 01, 2013
Joining the Christian marriage and interracial relationships genre, authors Lanette Zavala and Tonshea Carroll's new book, Wedding Vows under Fire Series 1: Gold Bands in the Fire has recently hit book shelves and e-book websites this month.
An emerging novel in the Christian romance genre, the first novel in the series will include subjects like interracial relationships, overcoming infidelity and in-law meddling that will make this novel unforgettable.
"We wanted to give a unique storyline in the genre of romance," says author Lanette Zavala. "The hostage storyline is based on wishful thinking that Tonshea and I were discussing one day talking about all the violence that we'd learned about on the news. We were talking about how wonderful it would be for violent offenders to just cross the wrong person. So, the crime story was merged in to this romance very relevantly to add suspense, comedy and adventure."
Natalie and Joseph Reyes appear to be the ideal African American-Hispanic bi-racial couple. While obtaining their own wealth, status, and enterprise together as a young married couple, they successfully uphold the image of a loving Christian family with their children. But the love without the time is taking a heavy toll on Natalie. Battling mysterious symptoms within her body, the demands of a controlling mother-in-law, and her husband's excessive absence from home, she directs her attention on other people's drama while a wedge gradually forms between her and Joseph.
Natalie's sister-in-law, Shasta, agonizes over problems with the same mother-in-law, Angelica, and her husband's habitual tendencies toward dishonorable interests outside their marriage. Shasta finds herself in a place where she realizes she must literally choose between her husband and her health - even at a time when he desperately tries to work on the marriage. It may be too late.
Natalie's cousin, Tiphany Taylor, builds her entire world around the only man she ever loved. Tiphany and Jimmy have the home life that any wife would want with her husband. Because Jimmy never made marriage a priority with the woman he loves, he opens a wide door to the risk of losing their relationship to all the enticements that success can introduce to a man. While a forgiving Tiphany is willing to fight for a marriage that she's sought with him for years, she gradually learns and yearns for something that is far beyond Jimmy - a relationship with the living God, calling her out of her current lifestyle.
Natalie has a psychotic cousin who was attacked by two serial killers intending to hold her hostage. But she breaks free and turns the tables on them with a delusional rage, believing herself to be the scorned wife of her main captor, the notorious Rodney Price. Unbeknown to Natalie and the rest of their family, this cousin imprisons two kidnappers and her two fellow hostages, who are a married couple plagued with domestic abuse, right within her isolated home to form a pseudo-family of her own.
The rich snob, Angelica Reyes, is a major culprit for problems in the marriages of her sons, Joseph, Juan, and Javier. To safeguard her own personal life from her widowed meddling mother, Alicia Reyes goes on a manhunt for Angelica and finds a homeless man to groom for the mission. Her biggest challenge is to prepare him in every way for the rich woman who has no idea about his status that would horrify her.
This is the first installment of the new African-American Christian romance novel series. The book will be available for purchase on amazon.com, barnesandnovle.com, booksamillion.com and other major bookstores online. The e-book is also set to be released alongside the hard copy.
About Lanette Zavala:
Lanette Zavala is an established author with over seven titles in novels and non-fiction books from Christian novels and playwrights, as well as an e-book How to Write a Business Proposal and Other Marketing Documents. A wife and mother of four children, Zavala holds a Bachelor of Arts degree in mass Communications from Clark Atlanta University.