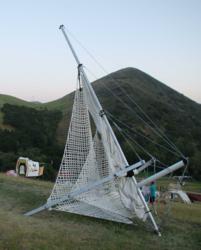 San Diego, CA (PRWEB) May 01, 2013
A team of NewSchool of Architecture and Design (NSAD) students earned the top award at the prestigious Cal Poly Design Village 2013 competition held April 19–21, beating out teams from 14 other California schools. The NSAD student team won the "Best Overall" category for demonstrating the best application of the design competition's themes, "Make. Move. Play."
The winning team included NSAD students Joshua Nunnally, Sebastian Beingolea, Anina Varghese, Barrak Darweesh and Matthew Padilla. This team was among 34 involved in the competition, including four other student teams from NSAD. All the NSAD student teams developed their entries as part of a design studio course taught by NSAD instructor Hussein Munaim. The annual Cal Poly Design Village competition challenges students to develop structures that are not only unique but also portable and habitable—a task requiring a mastery of form and function that is emphasized throughout the NSAD curriculum. The winning project by the NSAD team was made of aluminum pipe and tubes, PVC pipes, and steel cable tensions, according to Munaim. The project also incorporated canvas and a handmade hammock of cotton rope.
"We are proud of all of our student teams," said Munaim. "They brought a high level of talent, dedication and hard work in envisioning and creating their competition entries during the NSAD design studio course. Being awarded the Best Overall award for the Cal Poly Design Village 2013 competition affirms the school's dedication to preparing students for academic excellence and professional success."
NSAD teams traditionally earn high rankings at the Cal Poly Design Village competition, which attracts entries from other established architecture and design programs at West Coast schools. The highly competitive event is held by California Polytechnic State University in San Luis Obispo, California, and this is the sixth time in the past seven years that an NSAD team has won the top prize in a category.
About NewSchool of Architecture and Design
NewSchool of Architecture and Design (NSAD), founded in 1980, is located in San Diego, California. For the past two years, DesignIntelligence has ranked NSAD among the top 10 undergraduate architecture schools in the western United States in its publication "America's Best Architecture & Design Schools." NSAD is accredited by the Accrediting Council for Independent Colleges and Schools (ACICS), a national accrediting agency recognized by the U.S. Department of Education and the Council for Higher Education Accreditation. NSAD's Bachelor of Architecture, Master of Architecture and Executive Master of Architecture programs are accredited by the National Architectural Accrediting Board (NAAB). NSAD also offers a pre-professional Bachelor of Arts in Architecture, along with a Bachelor of Science in Digital Media Arts, a Bachelor of Science in Construction Management, a Master of Construction Management and a Master of Science in Architecture. The school's expanding global design education offerings include a new Bachelor of Interior Design program available in 2013–2014. For more information, visit http://www.NewSchoolArch.edu.