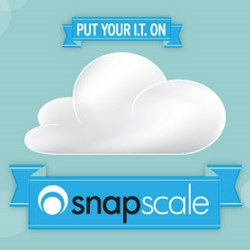 [Clients are provided] all of the physical and logical amenities needed to engineer a highly secure, and fully redundant remote IT system.
Ashburn, VA (PRWEB) May 06, 2013
Leading hosting solutions and data center provider InfoRelay Online Systems Inc. announced Tuesday the release of its second-generation Cloud hosting platform, SnapScale™ V2.1. The new cloud platform provides clients with a robust virtual hosting environment that can scale on-demand and incorporates multiple layers of network security and data protection. The addition of SnapScale™ to InfoRelay's suite of services adds an additional layer of infrastructure redundancy, strengthening clients' disaster recovery systems. SnapScale™ also acts as a standalone hosting solution for small and medium-business, enterprise, and compliance-seeking entities. The SnapScale™ Cloud provides remote virtual computing in public, private and hybrid environments for hosting email servers, websites, databases, backup and data storage, and enterprise applications.
Following the successful launch of its V1 series of Cloud platforms, InfoRelay states that it spent over a year engineering an even more advanced, secure, and redundant hosting environment using its Northern Virginia-area data center infrastructure. The remote hosting environment allows clients to turn up [Virtual Machines instantly with its web-based interface, and turn them down on an as-needed basis, providing a wealth of control over their hosted applications and Virtual Machines. The agile billing structure permits that users pay on an as-needed basis, simplifying the cost for the end-user, and reducing excess. InfoRelay Senior Systems Administrator and Lead Cloud Engineer Marc Kaplan explains, "The initial capital investment needed to turn up physical network systems in any hosting environment can be very costly. The SnapScale™ cloud platform relieves companies of this burden. InfoRelay provides all of the physical and logical amenities needed to engineer a highly secure and fully redundant remote IT system. InfoRelay maintains the data center real estate, cooling infrastructure, network and power redundancy, fire suppression, storage arrays and hypervisors." Kaplan continues, "InfoRelay leveraged the large investments it had previously made in redundant network systems and secure data center infrastructure to offer a more competitive solution for clients that require highly-secure hosting solutions and a simplified billing structure." The SnapScale Cloud™ provides Infrastructure as a Service (IaaS) in the first stage of its rollout, and will soon be available for Platform as a Service (PaaS).
InfoRelay also recently announced disaster recovery consulting and planning as a service in February of 2013, which now encompasses the SnapScale™ V2.1 Cloud Platform. SnapScale™ aligns with other data center solutions such as colocation hosting, dedicated servers, server and desktop backup, and bandwidth to provide a comprehensive solution for clients' IT Continuity of Operations and Disaster Recovery Plans.
For more on this story, or to inquire about the SnapScale™ Cloud Platform, please contact InfoRelay's marketing department at 703.485.4600. InfoRelay has provided an infographic to introduce readers to Cloud hosting. It can be seen here: Cloud9.
###
About InfoRelay Online Systems, Inc
InfoRelay Online Systems, Inc., founded in 1995, is a leading national data center and colocation provider with value-added services designed to alleviate the strain on IT budgets while providing superior customer support. The InfoRelay network is made up of a robust carrier blend, world class SSAE16II data centers, a portfolio of network and data center products, a wealth of in-house technical knowledge, and a passionate support team. The InfoRelay network is home to healthcare firms, federal and state government, legal services, non-profit, and e-commerce platforms.