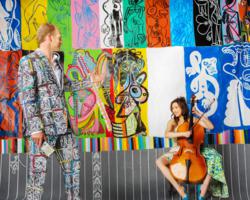 Santa Fe, New Mexico (PRWEB) May 01, 2013
Like a grand overture, Jason Appleton's contemporary art creates an immediate impact on the viewer, and continually energizes a space. Appleton's well-known "Splash" motif has evolved in the past year and he's taken it to another level. Appleton's contemporary "Magnificent Splash" painting, an acrylic on canvas, measuring 5 feet by 7 feet, exhibits astoundingly complex detail and several multiple layers of intricately painted micro splashes. These elements combine with an infinite array of colors to create hours of non-stop viewing pleasure. The painting never looks "the same" and is forever changing due to its complexity, depending on the viewer's mood and temperament. Appleton states: "It's a masterpiece, and I feel it's my best work to date."
Contemporary artist Jason Appleton hails from upstate New York and Chicago and is self-taught. His father, also an artist, exposed him to painting at an early age. Appleton knew he wanted to be an artist early on, and embraced the life of an autodidact; foregoing formal training or the aspirations for an MFA. "My desire to be an artist was stronger than my desire to be an art student." he says. Boxes filled with thousands of studies in his studio, serve as reference for his continually evolving body of work. For the "Affair With The Muse" show, artists were asked to create work inspired by music. Of the concept, Kristin Johnson states: "One can discover cross-inspirational emotional influences both historical and environmental. In art, the virtual score becomes the subject and in the performing arts, the virtual subject becomes the score - each drawing from the other canon."
Contemporary artist Jason Appleton works closely with his wife, music composer Kathy Haggerty, in their Santa Fe studios – so the theme of the show was a natural one. Appleton states: "My brush upon a canvas is like a musical note upon air. Both music and art are inextricably entwined. As Kathy composes on the piano and cello – so do I create. Music and the visual arts are two distinct forms that share a connection and inspire each other."
Please contact the gallery for more information about Jason Appleton's art and the show.
Artist's website: http://www.appletongallery.com
About Kristin Johnson Fine Art: Kristin Johnson represents a distinct group of world-renowned visibly diverse artists , and works with high profile clientele and corporations through private placement and auctions (Heinz Family, Forbes Corporate Collection, Sotheby's, Christie's).
Inquires/Contact:
Kristin Johnson – Gallery Owner & Lars Andrews – Gallery Director
323 East Palace Avenue, Santa Fe, New Mexico 87501
Tel: 505.699.6576
###