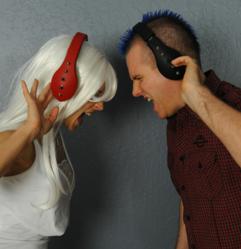 Velodyne is thrilled to support Bottle Rock in its first Napa musical event, creating an exciting environment for the community to enjoy.
Morgan Hill, CA (PRWEB) May 08, 2013
Supporting non-profit causes through the power of art and music, Velodyne Acoustics announced its participation at the Bottle Rock Napa Valley Music Festival, May 9-12th at Napa Valley Expo. The 4-day festival will bring together 80 bands, 40 wineries, and 30 restaurants, with headliners such as The Black Keys, Zac Brown Band, Kings of Leon, and Train. In addition, more than 20 nonprofits, groups, and organizations will benefit from the show.
"Velodyne is thrilled to support Bottle Rock in its first Napa musical event, creating an exciting environment for the community to enjoy," says Velodyne President and Chief Creative Officer, Marta Hall. "And the fact that Bottle Rock benefits so many great social causes makes it a very fitting partner."
Velodyne will donate a vTrue studio headphone, autographed by festival artists, to the online auction to benefit the Lung Cancer Foundation, Breast Cancer Fund, International Mental Health Research Organization, Napa Valley Youth Symphony, and various local and international non-profit organizations.
Velodyne will also donate five vFree wireless headphones, designed by President and recognized public artist Marta Hall, to the online auction. The vFree headphone comes in fifteen different skins that are easily interchangeable. Blank, customizable skins are also available for this headphone, so the owner can create their own skins with art markers/paint. The vFree auction winners will receive blank skins to design their own, personalizing their Bottle Rock experience.
Concert attendees are also invited to unleash their artistic expression at the festival at Velodyne's experiential listening station which will include an "artist's corner." Guests can design headphone skins portraying their experience at Bottle Rock for a chance to win a pair of vFree headphones.
For those who wish to leave the designing to the artists, Velodyne's "experiential listening" station will showcase their line of uniquely designed personal audio products: the vPulse in-ear, vFree Bluetooth wireless, and vTrue studio headphones. Festival attendees will get the chance to experience their favorite tunes with Velodyne's quality audio technology. The Bottle Rock musical event also highlights Velodyne's celebrated vPulse headphones, which will be gifted to those performing at the festival.
For more information on the festival, visit http://www.bottlerocknapavalley.com
ABOUT VELODYNE ACOUSTICS:
Velodyne Acoustics, Inc., founded in 1983, is universally recognized as the leading manufacturer of high-performance, low distortion powered subwoofers at all price levels. Headquartered in Silicon Valley, California, the company's technically innovative audio products are available through a select group of authorized dealers, custom installers, and distributors worldwide. For more information visit http://www.velodyne.com.