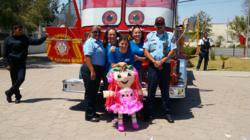 This was a great event for Office Gemini and Supplier Support to give back to the community and show that the International Corporation do care about local communities" - Michelle Zarate Supplier Support Tijuana
Houston, TX (PRWEB) May 01, 2013
Office Gemini is an international scanning and document management software company which specializes in the creation of the paperless office. Office Gemini's flagship product, Dokmee Document Management Software, has been able to enter and prevail in every major vertical market: healthcare, manufacturing, and legal. Dokmee allows businesses to manage their electronic filing cabinets, making documents accessible immediately regardless of time and location. Office Gemini has created a strong reseller channel in the document management industry by offering lucrative and aggressive commissions to US and international resellers with strong promotions and rebates. This also includes assistance in all aspects of technical support, sales, marketing, and lead generation.
On April 30th Mexico Celebrated "el Dia del Niño" - Children's Day. This is a very popular celebration and dedicated to honor the children of Mexico and their family role. Supplier Support Tijuana is a member of AIMO Association gave them the opportunity to work with the local businesses in the community to organize this important event, dedicated to the children of lower income in the community.
There were more than 500 children attending the event and the event was a success. Office Gemini / Supplier Support Tijuana were one of the sponsors of the event. The Supplier Support Sales Staff participated by donating the toys that were given away and other supplies that were needed for the festivities. The employees of Supplier Support Tijuana were in attendance the entire day to support and facilitate the event.
The children had the opportunity to continue with local traditions of breaking the "piñatas" and reaching for the surprises that each piñatas contained. There was also an appearance of Big Red, a fire fighter truck lent by the local fire department to educate the children on all the tools and equipment that fire department need before they enter a fire. The children saw how each fire fighter puts their lives at stake when they are called into duty. The event was a success and it gave these children the opportunity to enjoy their day.