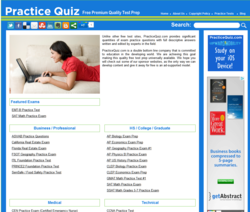 Boston, MA (PRWEB) May 03, 2013
Practice Quiz expands its review questions for the Advanced Placement subject exams.
PracticeQuiz.com announced today that it has released four new study question sets for the popular AP exams.
The AP exams given by the college board are used to assess the knowledge learned by high school students in Advanced Placement courses. High scores on the AP test is accepted as credit equivalency at many colleges and universities.
Practice Quiz has added four new free test prep question sets for popular AP exams, including:
AP Psychology,
AP Statistics,
AP US History, and
AP World History.
When asked for comment, Ted Chan, Practice Quiz's founder said, "College admissions have become very competitive in recent years, and college tuition has become very expensive. The value of the AP exams is that they allow students to demonstrate their academic rigor as well as give them an opportunity to save paying for a few credits down the line. We are very proud to be able to offer so much test prep material for the AP exams."
AP Psych, AP Stat, APUSH, and AP World are all in the top-ten list of most taken AP exams in recent years. Practice Quiz also offers study questions for AP Biology, AP Chemistry, AP Economics, AP Government, AP Human Geography, and AP Physics.
PracticeQuiz.com is an online test preparation enterprise based in Boston. The website's social mission is to increase access to education by providing high-quality test preparation content for free. The website now boasts more than 100 practice exams, with more expansion in the near future. Tests include certification exams, high school and college qualifications, teaching exams, and medical tests.
Follow PracticeQuiz.com on Twitter (@PracticeQuiz) for the latest news on exam updates and upcoming releases!