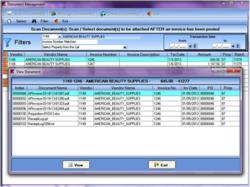 I appreciate how nicely it is integrated into Data Plus as part of the application. It is also a benefit to be able to attach other documents to the transaction along with the scanned invoice.
N. Chelmsford, MA (PRWEB) May 08, 2013
Data Plus is pleased to announce the release of their new Document Management System – DPDocs.
Now in its second generation, DPDocs is the Data Plus Document Management system. Allowing the attachment of any electronic file or image to a transaction or database record nets large savings in manual filing and retrieval.
A scanned invoice or receiving document can be viewed online by anyone with system access in order to support whatever business processes an organization desires. Scan locally or scan remotely, all documents are securely stored in the Data Plus database. Visit http://dphs.com/dpdocs/ for more information.
About Data Plus, Inc.
Data Plus offers the most complete hospitality-specific back office accounting system available in today's marketplace.
Hotels, restaurants, time-share operators, resorts, and casinos all over the world, varying in size and operational style, rely on their superior applications, system interfaces, and knowledgeable support.
Data Plus is able to accommodate the needs of the single site operator as well as the complex operational needs of an international management company.
Data Plus, Inc.
55 Middlesex Rd.
North Chelmsford, MA 01863
Phone: 978-888-6300
http://www.dphs.com/dpdocs