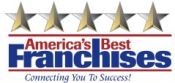 The goal of the redesign was two-fold. We wanted to make the site more user friendly while giving it a modern look and give our visitors an opportunity to not only find a franchise but also learn about starting a franchise business.
Lone Tree, CO (PRWEB) May 02, 2013
America's Best Franchises, one of the best known franchise opportunity web portals,
announces the launch of their newly redesigned interactive website.
"We've been an important source of information for people seeking to invest in a franchise business opportunity since we first launched our website," says founder Bill Bradley, "But we've definitely kicked it up a notch."
The new website includes a series of basic articles for people beginning their research, called "How Do I...Everything Franchising." This knowledge base tackles everything from "How Do I know I'm suited to work from home?" to "How Do I get an SBA loan?" Starting a franchise business is different in some key ways from other business start-ups, so people planning this kind of business venture can have questions that are different from those discussed at general business websites.
The new America's Best Franchises website also has an active blog where visitors can get the most current news on franchises and franchising. Recent posts include an examination of specialty cleaning franchises and an analysis of different ways of opening multiple franchises at the same time.
"The object," Bradley says, "is to provide all the information prospective franchisees need in one place."
America's Best Franchises is the home of the Franchise Bulls-Eye, an interactive online tool that lets entrepreneurs plug in the characteristics they want in a franchise, such as location, industry, and initial investment cost, and then search for franchise options that match their needs. The enormous variety of franchise offerings can be too large to think about without some narrowing, and the Franchise Bulls-Eye is an efficient way to start the search.
Once entrepreneurs have narrowed their search with the Franchise Bulls-Eye, they can request information on the franchises that interest them with just a click. The new website provides the information they need all along the way from first thinking about a franchise to opening the doors.
About America's Best Franchises
America's Best Franchises, founded in 2005, is one of America's leading portals for franchises and business opportunities. ABF typically features 250 – 300 franchise opportunities categorized into more than 50 franchise industries.
Aspiring entrepreneurs use America's Best Franchises to learn about franchising and how to buy a franchise business. ABF provides franchise related articles to assist website visitors while choosing the right franchise and offers personal tips, financing solutions and referrals to the franchise legal community.