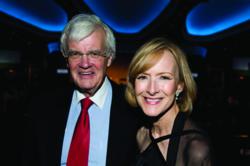 Westminster, MD (PRWEB) May 01, 2013
McDaniel College holds its 143rd Commencement on Saturday, May 25, at 2 p.m. in Gill Center (2 College Hill, Westminster, Md.). More than 600 undergraduate and graduate degrees are to be awarded.
Commencement speakers and honorary degree recipients are journalists and husband and wife, Al Hunt of Bloomberg News and Judy Woodruff of "PBS NewsHour." McDaniel Trustee and 1948 alumna R. Christine Royer, former vice president, director of admissions and English professor at Barnard College, also receives an honorary degree.
Two special awards are annually presented at McDaniel's Commencement. The graduating senior with the highest cumulative grade point average receives the Argonaut Award, and the Edith Farr Ridington Phi Beta Kappa Writing Award is given to the graduating senior who writes the best honors research paper. Both award winners are not revealed until the commencement ceremony.
In addition, two graduate awards are also not revealed until the commencement ceremony. The B. Jill Brooks Hodge Professional Development Award is given to a graduate student who has demonstrated academic excellence with a strong compassion for individuals with special needs and an interest in serving the deaf or disabled. The Joan Develin Coley Award for Excellence in Education is awarded to a graduate student with the best record in the study of literacy theory and practice.
In conjunction with Commencement, several events also take place on Friday, May 24:

McDaniel's Green Terror Battalion Army ROTC program hosts its Commissioning Ceremony at 10 a.m. in Baker Memorial Chapel with 10 graduating seniors from McDaniel being commissioned as second lieutenants in the U.S. Army along with graduates from Hood College and Mount St. Mary's University. The guest speaker is Major General James V. Young, Jr., Chief of Staff, United States Army Reserve (and father of McDaniel senior James V. Young, III, who is being commissioned into the U.S. Army at the ceremony). Army ROTC has been a tradition at the college since 1919, and the Green Terror Battalion is one of the oldest ROTC programs in the nation.
The annual senior awards convocation and baccalaureate takes place at 7:30 p.m. in Gill Center.
Click here for more information about McDaniel's Commencement.
# # #
Editor's Note: To attend McDaniel's Commencement, contact Cheryl Knauer, director of media relations, at 410-857-2294 or cknauer(at)mcdaniel(dot)edu by Friday, May 24.
McDaniel College, recognized nationally among "40 Colleges that Change Lives" and U.S. News top-tier liberal arts colleges, is a four-year private college of the liberal arts and sciences offering more than 70 undergraduate programs of study, including dual and student-designed majors, plus 25 highly regarded graduate programs. Its hallmark faculty-student collaborations in research, teaching and mentoring plus hundreds of leadership and service opportunities enrich a lively learning experience that is rooted in a personalized interdisciplinary and global curriculum. Innovative January courses take students to points all over the world while McDaniel's degree-granting European campus offers a unique opportunity for international study at the only American university in Budapest, Hungary. A diverse and close-knit community of 1,600 undergraduates and 1,560 part-time graduate students, McDaniel also boasts a spectacular 160-acre hilltop campus in Westminster, Md., an hour or less from Baltimore, D.C., the Chesapeake Bay, an Amtrak station and BWI international airport.