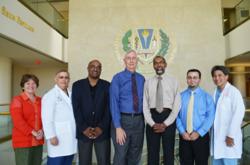 To our knowledge this is the first countywide study measuring maternal tobacco use from San Bernardino County
Loma Linda, Ca (PRWEB) May 01, 2013
Researchers at Loma Linda University Health (LLUH) have conducted a study that documents the impact of mothers who smoke during pregnancy on adverse birth outcomes in San Bernardino County. "Estimating the Impact of Smoking Cessation During Pregnancy: The San Bernardino County Experience" has been published in the online edition of the "Journal of Community Health."
The analysis of all births in the county during 2007-2008 indicated that for every 35 women who quit smoking during pregnancy, one case of low birth weight (LBW) or pre-term birth (PTB) was prevented. The cost of 35 women enrolling in a maternal smoking cessation program was estimated to be far less than the cost of a lengthy stay in the hospital for a low birth weight or pre-term infant.
"These data immediately translate into modeling the effectiveness of existing programs and allocating limited resources to new programs for San Bernardino mothers," said lead author, Michael Batech, MPH, research analyst at Loma Linda University Center for Health Research.
"To our knowledge this is the first countywide study measuring maternal tobacco use from San Bernardino County," said Jayakaran S. Job, MD, DrPH, Principal investigator on the study and the chair of the Department of Global Health at Loma Linda University School of Public Health. "We are very proud of the work that has been done on this study and only hope that it will have a positive impact on the community and beyond."
The research team was comprised of Loma Linda University (LLU) faculty and Loma Linda University Medical Center (LLUMC) physicians who began the study in 2008 as part of the National Children's Study work being done by LLU/LLUMC to enroll mothers and their infants in a long term follow-up study.
The authors of the study are Michael Batech; Serena Tonstad, MD, PhD, MPH, Professor at LLU School of Public Health; Jayakaran S. Job, MD, DrPH; Richard Chinnock, MD, Chair of Pediatrics at LLU School of Medicine and Physician-in-Chief at LLU Children's Hospital; Bryan Oshiro, MD, Vice-Chair of Obstetrics and Gynecology at LLU School of Medicine and Director of the Perinatal Institute and maternal and fetal medicine at LLU Children's Hospital; T. Allen Merritt, MD, Professor of Pediatrics at LLU School of Medicine; Gretchen Page, MPH, CNM, Southern Inland Counties Regional Perinatal Programs at LLUMC; and Pramil N. Singh, DrPH, Director of Loma Linda University Center for Health Research.
The research team discovered that mothers who quit smoking during the pregnancy had reduced risks for LBW and preterm outcomes compared to those who continued to smoke during pregnancy. There is also a significantly lower risk of PTB and LBW in mothers who had never smoked.
The study also incorporated variables such as age, race and years of education, which also had an impact on birth outcomes related to smoking.
"We hope that these findings will not only influence the community and contribute to better birth outcomes," said Gretchen Page, "but demonstrate the need for more education on smoking and pregnancy as well as smoking cessation programs for expectant mothers."
The project, which was funded by the National Institute of Child and Human Development, was inspired by the fact that as the largest county in the contiguous United States, San Bernardino County has experienced one of the highest rates of infant mortality, LBW and PTB in California since 2009. The county also ranks among the lowest in California based on indicators of good health according to an analysis done by the Robert wood Johnson Foundation.
Photo Caption: The research team, from left to right, Gretchen Page, Dr. T. Allen Merritt, Dr. Pramil Singh, Dr. Richard Chinnock, Dr. Jayakaran S. Job, Michael Batech, and Dr. Bryan Oshiro. Dr. Serena Tonstad not shown.
# # #