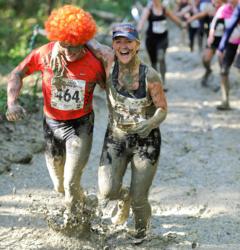 (PRWEB UK) 1 May 2013
For those seeking the next challenge after the marathon season, or those who simply want to test their grit, Mud Runner, the Dirty Weekend is the ultimate test of fitness. A brutal 10K cross-country run featuring ten different tests of strength, endurance and coordination, plus plenty of mud, glorious mud.
This is a cross counrty run that appeals to fun runners, charity fundraisers or hardened adventure runners; with two races to choose from in the Dirty Weekend, plus two junior races for the kids. Those that feel up to it can complete both races and receive a special Dirty Weekend memento.
The course itself is set in the stunning Deer Park on Eastnor Estate and boasts some of the best tracks in the country. It is normally used by Land Rover as a testing ground for their vehicles and provides a great mix of mud pits, steep climbs, thick gooey mud and some stamina-testing natural obstacles.
At the end of the race is the legendary Muddy Tub of Love, the biggest hot tub in the land to warm up, clean up and brag about achievements to fellow mud runners.
The Dirty Weekend takes place over on 29th & 30th June.
For more details go to http://www.mudrunner.co.uk