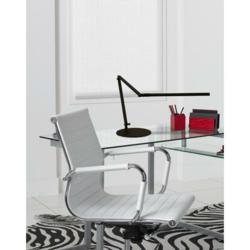 LED is a growing segment of the lighting industry that allows consumers to save energy.
Los Angeles, California (PRWEB) May 02, 2013
LED home lighting designs are advancing at a fast clip; so much so that new designs and technology are making their way into the marketplace on a daily basis. Available as both screw-in light bulbs and dedicated modules in lighting as diverse as chandeliers, landscape lights and more, LEDs today represent a growing segment of the lighting industry that offers consumers a smart way to save energy and go green for the season.
LED stands for "Light Emitting Diode." Manja Swanson, Chief Creative Officer for online lighting retailer Lamps Plus, explains, "This type of lighting device works by passing current through a semiconducting material, which emits photons (light) through the principle of electroluminescence. Since this design does not rely on heat to produce its light, it runs cooler and is thereby much more energy efficient than traditional incandescent lighting."
With these benefits in mind, Swanson offers a roundup of the top five designs and tips for navigating the brave new world of LEDs:
1) LEDs Are Right at Home in the Office…
In the home office, study space, and workplace, LED desk lamps have made themselves right at home. "Because of their compact size, low heat output and high energy efficiency, they are perfect for the desk," says Swanson. She goes on to explain that, "As with any task or reading light, you want a design that puts out a large amount of light. But pay attention to the quality and color of the light as well. If you want a warm light, make sure the design has a color temperature of below 4,000 Kelvin. Higher Kelvin ratings will be bluer and less warm, which may be perfect certain types of work."
2) …And Help Redefine the Pendant Chandelier
The elegant and stylish pendant light has been reimagined with this new technology. "We've seen a number of new LED pendant lights over the last year or so," notes Swanson. "Designers are really starting to use the new technology to create unique forms and shapes. Because the LEDs are much smaller and more compact than traditional bulbs, it has allowed for a whole new reimagining of the form." Among the new offerings are pendants for use over kitchen counters with startling and elegant new shapes. Observes Swanson, "I especially like with multiple downlights. These are a distinctive application of the new technology that takes advantage of how small the LED package can be."
3) LED Is for Landscapes…
Summer means time spent outdoors, and increasingly it means time spent under the glow of the newest LED landscape lighting designs. "We've really seen an explosion in outdoor designs," says Swanson. "Because they are so small, they lend themselves perfectly for use in low voltage path lights and garden spot lights. And the fact that they have a very long life is a great advantage when constructing a landscape lighting system." Garden flood lights are particularly popular. "These lights add depth and help to accentuate the natural beauty of the yard," notes Swanson.
4) …And for Ceilings Too
Cool running LEDs are particularly popular in new and remodel construction, especially with recessed lighting. While halogen and incandescent bulbs have typically been among the most common bulbs for recessed lights, LED presents a unique opportunity to save electricity with cool, energy efficient fixtures. "Switching to LEDs is actually quite easy," notes Swanson. "For a surprisingly low cost, consumers can install a smart looking LED directly into most standard housings with an LED recessed lighting retrofit light and trim kit. Including both the light and trim, these kits are sized to fit existing housings and are powered by simply screwing into existing bulb sockets." As the market continues to expand to include energy efficient styles and special designs for sloped ceilings, LED recessed lighting options are increasingly plentiful for consumers.
5) LED Light Bulbs Shine for Less
LED bulbs were pricy when they first came out, but prices have dropped over the last year and are expected to keep declining as the technology becomes more commonplace and additional options hit the marketplace. "LEDs are now a good bet to replace traditional incandescent bulbs," says Swanson. "They do cost a little bit more, but they pay off with long term energy savings and bulb life. An LED light bulb can last up to 50,000 hours; that's more than 16 years of use when the bulb is left on 8 hours a day. That's pretty remarkable." She notes that LEDs are an especially good choice for hard-to-reach fixtures where bulbs need to be replaced on a regular basis. "The longevity of LEDs means less time spent on maintenance and bulb replacement. That's a big deal for building managers or anyone who has lighting where access is an issue."
"LEDs have advanced in recent years. They cost less but look better than ever, and they generally result in a much smaller environmental footprint than incandescent bulbs," concludes Swanson. "Customers are definitely responding by purchasing more It's for these reasons that we believe consumers are showing such an increasing interest in LED lighting."
About Lamps Plus
For more than 30 years, Lamps Plus has been synonymous with excellence in the retail lighting industry. Established in 1976, Lamps Plus is the nation's largest specialty lighting store, with more than 40 superstores throughout the western United States. Together with their retail locations and online business, Lamps Plus serves customers nationwide with the largest selection of functional and decorative lighting fixtures, accessories, furniture and home decor. This selection includes hundreds of products, ranging from traditional chandeliers to the latest in home decor, available exclusively from Lamps Plus. Services include in-home lighting consultations, in-store workshops and installation from expert, licensed electricians. American Lighting Association certified designers are available to offer product recommendations and advice in all our stores, by phone or online at LampsPlus.com. The Lamps Plus family of websites also includes 55 Downing Street, Lighting Luxury Style, Builders Discount Lighting, and Lamps Plus Open Box. Visit the official Lamps Plus website: http://www.LampsPlus.com