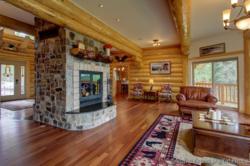 Kenai, Alaska (PRWEB) May 01, 2013
Alaska, home to some of the most secluded and beautiful wilderness in North America, and a destination that has become a religious calling of sorts for big game fisherman, just got a major facelift. New to the Kenai Peninsula, home to some of the finest fishing and outdoor sportsman's activities in Alaska, is the Salmon Catcher Lodge. Where recent past on the lodges grounds boasted nothing, just a few years later, hails claim to a luxury establishment. Built from the ground up by owner Terry Johnson, the lodge is quickly becoming synonymous with luxury and fishing, a combination that Johnson claims as unique to the area.
"There is certainly no shortage of incredible lodging in this part of the country, Johnson said. Still, when I look around, I see something missing from the unique combo of luxury and world class fishing. I wanted to create that perfect medium in the lodge."
A longtime flight crew member of UPS, Johnson has stayed at various lodges across the world. His keen eye for luxury lodging and amenities has now landed him in a unique spot as the owner and chief operator of Salmon Catcher Lodge. In his vision of creating the perfect Alaskan getaway, Johnson spared no means. Beginning his determined quest to provide fishermen from around the world the perfect destination in lodging and fishing, Johnson started small, living out of a truck and small camper.
From there, Johnson built a custom five bedroom log cabin, blooming into several stick-frame lodges that would become the building blocks to the luxurious log home of the current day Salmon Catcher Bed and Breakfast. "It certainly was not easy to bring together," said Johnson, who used local beetle kill logs for the buildings, and flew in most of the luxurious resources from various spots across North America to Kenai.
Today, the lodge stands at a breathtaking 14,000 square feet and is valued at over $2 Million. Behind the lodge doors, guests will find one to four bedroom units complete with full kitchens and touches of modern luxury around every corner. Grills, handmade picnic tables, and fire pits line the outside of the lodge, perfect for swapping fish stories. And of course, the lodges convention center, a sort of common room, brings together groups of up to 40, and offers full service catering options.
Larry Csonka, NFL football legend and host of Napa's North to Alaska, has endorsed Salmon Catcher Lodge as the finest place to stay and fish in Kenai Alaska. Check out Larry's take on the lodge here.
But don't take away luxury and great fishing as the only catches at the lodge; Salmon Catcher Lodge has been a generous contributor to The Kentucky National Guard, The Wounded Warriors of Kentucky, and The Outdoor Dream Foundation. Johnson even provides a discounted travel rate for Wounded Warriors and Unites States of America First Responders.
To learn more about Salmon Catcher Lodge, click here.