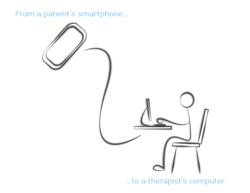 MyPsychTES saves the therapist time and makes communicating with many clients very easy.
Washington, DC (PRWEB) May 14, 2013
Today, MyPsych unveils MyPsychTES.com, the Therapy End System for therapists and counselors. MyPsychTES streamlines patient-therapist communication, enabling counseling to be more effective, efficient, and accessible. The MyPsychTES website connects practitioners with clients using the MyPsych smartphone application for iPhone and Android.
MyPsych is a real-time monitoring and analysis tool. The MyPsych Smartphone Application encourages users to increase emotional awareness, create positive goals for improvement, and track progress. The MyPsychTES website connects patients with counselors and provides analyses, alerts, and automated communication tools.
Through the website MyPsychTES.com, counselors can now access their clients' mobile app information. With MyPsychTES, therapists can analyze client information and manage client goals to track improvement. MyPsych has automated messaging capabilities, electronic form creation and sending tools, and customizable alert tools. MyPsychTES saves the therapist time and makes communicating with many clients very easy.
With the free MyPsych Smartphone Application for iOS (released last May) and Android (to be released 5/17), users organize their emotional health. Users can keep track of a range of emotions and daily events. Users also create and monitor positive goals for improvement and can record text or video journals.
75% of mental illnesses begin before age 25, but 50% of mental illnesses go untreated. Individuals want a secure, easy way to connect with their therapist. Therapists want to save time in between each patient session, while also providing their best services.
MyPsych is a versatile system, as it is applicable to therapy for PTSD, anxiety disorders, depression, drug abuse counseling, school counseling, and family counseling. It is accessible for children, teens, and adults.
Visit: http://www.mypsychtes.com