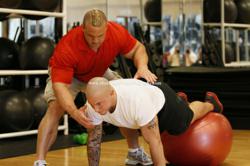 Scottsdale, AZ (PRWEB) May 01, 2013
May is National Physical Fitness and Sports Month, a great time for your health club to spread the word about the benefits of a healthy and active lifestyle.
It's also the perfect opportunity to show your appreciation for your club members.
"Transformation is not five minutes from now; it's a present activity," said Jillian Michaels, America's Toughest Trainer and star of NBC's "The Biggest Loser". "In this moment you can make a different choice, and it's these small choices and successes that build up over time to help cultivate a healthy self-image and self-esteem."
And when members feel good about themselves, they're much easier to retain.
High member retention rates are a major factor in your club's success. According to Fitness Marketing Group, it costs seven times more to attract a new member than it does to keep an existing member happy.
Here are four creative tips for boosting member retention:
1. Exclusive member benefits.
Expand the value of your club's membership by adding exclusive benefits such as discounts and special offers. Work with local and national vendors to secure fantastic deals that you can pass along to your members.
In addition to member discounts, other on-site benefits that boost member retention include childcare services, spa amenities such as massages and manicures/pedicures, and food services/juice bars.
2. Offer unique fitness programs
One of the most common reasons people give for cancelling a health club membership is that they can do the same exercise at home. Examine your club's current lineup of fitness programs for uniqueness. If the current offerings are not up to par with someone who wants to lose fat fast, add fitness programs and activities such as group yoga, Pilates, Taekwondo and kickboxing.
3. Provide discounted personal training.
Another major reason why people cancel their health club membership is lack of motivation. While motivation can be achieved through personal training sessions, some members are immediately turned off by its cost.
Consider offering special personal training discounts to existing club members. This will put them on the right path to health, which, in turn, creates long-time club members.
4. Offer discounts to friends and family.
New members starting an exercise program for the first time are more likely to stick to it if they have a friend or family member to work out with. Encourage this by offering discounts to friends or family members who join. Take it a step further and discount the member's rate as well. The result could be two long-time members from just one initial membership.
Learn how Appointment-Plus personal trainer software can boost your member retention rates. Call 800-988-0061. Visit http://www.appointment-plus.com.
About Appointment-Plus: Appointment-Plus helps health clubs run more profitably by automating member scheduling. It offers online member self-scheduling, automated reminders that reduce "no-shows" by 70 percent, and online payment options. It integrates with Google and Outlook calendars.