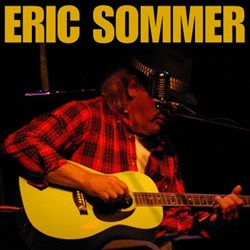 Never seen anyone bully a little guitar like that. Shameful...
Dex Dumelle, Beacon Music House
Somerville, MA (PRWEB) May 02, 2013
Eric Sommer should fit easily onto the Sally O'Brien's stage.
It's Americana, right? Eric Sommer is a solo guitar player, right?
Not surprisingly, putting Eric Sommer anywhere is a tight fit. Primarily because this isn't the usual "singin' and strummin'" solo guitar act most folks are accustomed to. Far from it. Any encounter with this veteran rocker is an experience.
Throw out any preconceived notions about what one might expect to see and hear.
First, the stage set.
Mr. Sommer carries eight or so guitars, stacked one on top of the other, some standing in guitar stands so it looks like a forest of necks and tuning keys, others laying on their sides. The guitars are of various designs, as well: two with checkerboard tops, two finished in bright lime green paint, one in black, two natural, one beautiful Taylor with inlay and body cracks... and a vintage 1969 Telecaster, with a scalloped fretboard and a road-beat body.
Second, the amps.
On stage is a pawn-shop collection of odd shaped and sized amps - Kramer, Fender, Traynor, Fishman - and a 1939 National "Valco Shield" in the original tweed covering - or what's left of it after 70 years of shows. They are stacked one on top of the other in an amp "wall" directly behind Mr. Sommer on stage.
In the middle of this, singing behind a vintage 1951 Shure 55 aka "Steel Cage," sits Eric Sommer, on a Road-Ready road case surrounded by guitars on either side and a back wall of amps with a Woody Wood Pecker Lunch Box, an odd collection of pedals on the stage and a large tin in the shape of a heart covered in black duct tape.
Then there's Eric Sommer.
Sitting on a road case, or standing behind a mic, is a most original and visually captivating guitar player. A writer, poet, singer, guitar player and general troublemaker, Eric Sommer is marking new ground and re-defining what it means to have - and to live - a creative life.
Eric started his musical career in the Boston area and has been a regular player on many national tours and showcases. Sommer's influences are as diverse as Townes Van Zandt, Steve Earle, Steve Howe and The Ramones. Mr. Sommer's current project with power trio "The Solar Flares" shake up Chet Atkins and David Bromberg influences with those of ZZ Top and Elvis Costello - a remarkable mix.
With open tunings, slide guitar, lap-slap tone guitar and a remarkably aggressive fingering style approach, watching Eric Sommer will make you jump out of your seat and holler for joy! There are very few players who have maintained this authentic American style of guitar and Eric Sommer is one of the very best.
Amen.
____________________________________
For Music Samples please visit Eric Sommer online for additional schedules or contact him at eric(at)ericsommer(dot)com or call 202-255-1995. Additionally, you can find Eric Sommer on Facebook, too. RAINY DAY KARMA is also available on CDBaby.
Eric Sommer is represented by Clyde is Thinking, and PR programs are managed thru MTG/NY; For more information, promo/appearance requests or to set up an interview, please contact Tom Monihan 202-255-1995.