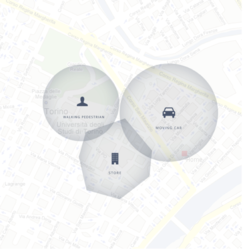 By pairing location with behavioral data and user preferences (i.e. likes to travel) and in-app behavior (i.e. accessed the app), Warply's system enables advertisers to connect with users when they are most likely to responsive to the brand's message
Ne (PRWEB) May 01, 2013
Warply, a Mobile-marketing-as-a-Service startup today unveiled unique location based advertising features comprising predictive behavioral targeting and the ability to target users offline. The addition of these features enables advertisers to target mobile app users based on current location and location history, allowing them to increase the advertising message's relevancy as well as conversions.
The new geofencing technology allows App publisher and advertisers to pinpoint consumers location and provide location-specific advertisements and messages on their mobile devices like coupons, sweepstakes, brand campaigns and special offers.
"By pairing location with behavioral data, user preferences (i.e. likes to travel) and in-app behavior (i.e. accessed the app yesterday), Warply's system enables advertisers to connect with users when they are most likely to responsive to the brand's message. The location can be pinpointed even without a data connection plan, enabling offline targeting that can work with a lot more use cases," stated John Doxaras, CEO of Warply "On the other hand Warply allows end customers to control what type of messages they receive with the ability to opt out of any type of messages they do not wish to receive, allowing advertisers to have a higher impact and provide greater customer satisfaction."
Since launching less than a year ago, Warply has experienced accelerated growth, due largely to its innovative mobile marketing technology that helps publishers target their audience in the right context, and also because it addresses effectively the ever growing problem of mobile app monetization by delivering highly personalized mobile marketing campaigns through push notifications that lead to direct response actions and deliver on advertiser ROI.