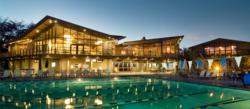 With all jokes aside, this is another one of those events that we pride ourselves in being a part of.
Palo Alto, CA (PRWEB) May 01, 2013
According to http://www.thinkquest.org, Americans use 50 million tons of paper annually -- consuming more than 850 million trees. It's staggering facts like these that puts Acterra into motion to sustain their mission of bringing people together to create local solutions for a healthy planet. That's why on Friday, April 19th, 2013, they held their annual fundraiser, Party for the Planet, to help provide local solutions for a more healthy planet. According to mercurynews.com, in attendance was a sold-out crowd of 240 members, sponsors and community leaders for this event and they got to enjoy the moment with a photo booth rental from Peekaboo Photo Booth.
The event was held at the University Club of Palo Alto and based on their website, the club is a member-owned, non-profit proprietary organization. They are a family oriented club with a wide range of recreational & dining facilities.
"From hearing about the event that included a jazz band, an organic buffet, a raffle, and a live auction, I'm a little sad I don't still live in the California area to have been able to work this event," smirked Andrew Birr, owner of Peekaboo Photo Booth. "With all jokes aside, this is another one of those events that we pride ourselves in being a part of."
About Peekaboo Photo Booth
With more than five years of experience, Peekaboo Photo Booth (http://www.peekaboophotobooth.com/orlando-photo-booth-rental/) has completed more than 1,000 successful events. The company offers classy, cabana-style booths that are easy to set up and simple to use. Based in Winter Park, Fla., Peekaboo Photo Booth is a privately owned firm that offers services nationwide. In addition to operating in the Orlando area, the company also has a presence in the following metropolitan areas: Phoenix, Miami, Los Angeles, San Francisco, San Diego, Houston, Dallas, Washington D.C., Philadelphia, Boston, Atlanta, Seattle, Chicago, and Detroit. Peekaboo Photo Booth has been in the Photo Booth Rental Business for over five years and celebrates a nationwide footprint servicing both private and corporate events.