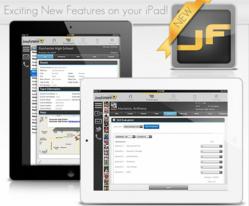 (PRWEB) May 01, 2013
JumpForward, LLC (http://www.jumpforward.com), the leading provider of NCAA compliance management, recruiting databases, and communication systems, is pleased to announce another revolutionary and amazing product: JF iPad Sports Analytics 3.0. This is JumpForward's 3rd release of its award winning iPad application since 2010. Version 3.0 is free for current and new users.
JumpForward was the first to innovate the recruiting process with an iPad app, and we are changing the college recruiting landscape again by delivering the next big thing for college coaches. Unlike other recently released iPad applications, with disjointed user interfaces and cumbersome consumer experiences, JumpForward's app enables college coaches to easily find and evaluate recruits from single intuitive app. JumpForward continues to lead the iPad revolution with a ton of new features that will transform the recruiting game.
The big new feature in this release is the Skill Evaluation System, which allows coaches to create paperless custom skill evaluation forms. With JF iPad Sports Analytics 3.0, you can assess prospects from the gym, the car, the film room, or on the couch while watching online film - all right on your iPad. Coaches can create unlimited custom forms to be filled out on both the iPad and Web. For college coaches, JumpForward has seamlessly unified the recruiting, assessment, evaluation, and reporting process - all from within a single application.
With the Skill Evaluation System coaches can do the following:

Analytically compare recruits on a multitude of sport-specific statistical measures.
Create unlimited custom forms to fit your recruiting evaluation process.
Watch film while filling out Skill Evaluations.
Pass Skills Evaluations on to other staff members and notify them instantly via e-mail.
The second big upgrade is the addition of the school database. Coaches can now access over twenty five thousand schools in JumpForward's database. In addition, with this upgrade coaches can do all of the following:
Access important school information, including addresses, coaches, and contacts.
Get directions to the school from the fully integrated Google maps feature.
Access information on prospects associated with a school.
Watch Online Film
Log compliance contacts and evaluations.
About JumpForward, LLC:
Founded in 2007, JumpForward is the leading provider of recruiting and compliance solutions for collegiate athletic departments. Our software solutions, designed with cutting edge technology, have transformed the way a modern athletic department works. JumpForward allows coaching staffs, compliance staffs, and student-athletes to communicate effectively and efficiently.
Additionally, our revolutionary technology increases collaboration across every division within the athletic department. By bringing all of these groups onto a single platform, we allow institutions to strengthen internal controls, communicate effectively, both internally and externally, and reduce the risk associated with costly violations.
For more information about JumpForward, please contact us by email at sales(at)JumpForward(dot)com or by phone at 866-499-0564.