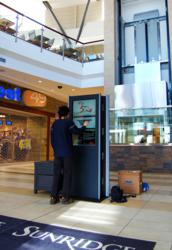 Phoenix, AZ (PRWEB) May 01, 2013
US-based kiosk and digital signage hardware manufacturing company, ZIVELO, announces a strategic partnership with Canadian software company Visionstate Inc. Together, ZIVELO and Visionstate will offer turnkey wayfinding and customer service solutions suitable for businesses across multiple industries.
Visionstate has selected ZIVELO's C6, C10, and M series kiosks as the preferred hardware platforms for the company's Virtual Customer Care Interface (ViCCi) directory software. The ViCCi system makes it easy to navigate large, unfamiliar buildings and complex public facilities by featuring 3D maps and the ability to select and highlight any tenant on a touch screen with ease. ViCCi includes an interactive directory that enables the customer to search businesses by keyword, alphabet or category. The directory kiosk can also be utilized for advertising purposes and to generate data about where people are going and what they are looking for to provide valuable market research to organizations.
"Visionstate's top notch interactive software solution making our business partnership a natural alliance," comments Ziver Birg, founder and CEO of ZIVELO. "ZIVELO's sleek kiosk designs paired with Visionstate's intuitive user experience makes for a great directory and customer service experience."
ZIVELO's patented kiosk and digital signage hardware is designed to be future proof and offers brand continuity throughout the company's many desktop, wallmount, and floorstanding solutions. The recent introduction of the i Series, ZIVELO's elegant line of iPad kiosks, allows for maximum kiosk placement flexibility.
"This strategic partnership is ideal in that it brings together two industry leaders to offer the best product on the market," says John Putters, CEO of Visionstate. "We are very excited to begin deploying our new (ViCCi) units in partnership with ZIVELO."
For more information about this partnership or other ZIVELO products and solutions, please visit http://www.zivelo.com or contact info(at)zivelo(dot)com
About Visionstate Inc.
Visionstate Inc., a wholly owned subsidiary of CSM Systems Corp. (TSXV: CKX), is a leading producer of touch screen technology. The company's expansive product base includes mobile applications, facility management, and restroom management applications Visionstate's interactive solutions can be found across Canada for clients such as Ivanhoe Cambridge, Oxford, Primeris and RioCan.
About ZIVELO
ZIVELO is the industry leading manufacturer of kiosk and digital signage technology hardware with over 250,000 square feet of manufacturing facilities and more than 200 employees. Being US-based ensures the highest quality of product as well as rapid turnaround of product delivery. ZIVELO kiosks can be found around the globe, with over 100 resellers and distributors throughout the US, Canada, Europe, South Africa and Australia. ZIVELO's clients span numerous industries, and include organizations such as Coca-Cola, Nike, Siemens and the US government.