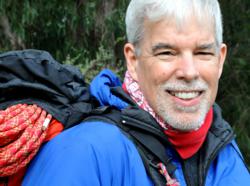 "Receiving the patent and officially introducing another effective snow science tool is an encouraging step in the right direction for furthering snow science education," said Brooks Range's Founder, Matt Brooks
San Francisco, CA (PRWEB) May 02, 2013
Following another variable winter, consistent with erratic weather patterns and snow cycles, Brooks-Range Mountaineering Equipment Co. is pleased to announce that its founder, Matt Brooks, was award by the United States Patent Office of a Design Patent D US 663,225 S for another advanced and innovative snow science tool, the Brooks-Range Snow Density Gauge.
"Receiving the patent and officially introducing another effective snow science tool to the exponentially growing backcountry market is an encouraging step in the right direction for furthering snow science education," said Brooks-Range's Founder, Matt Brooks.
Envisioned and developed in the field by Brooks-Range Founder, Matt Brooks, an AMGA certified mountain guide and snow science educator, the Snow Density Gauge was first tested and is now used by the world's most trusted mountaineering and avalanche experts, forecasters and observers including the National Weather Service.
The Brooks-Range Snow Density Gauge is a compact and highly accurate snow science device used to determine snow pack moisture content. It assists in determining snow pit data, snow loading, precipitation rates, rates of metamorphism, fresh snow quality and snow pack moisture content. All information leading to increased understandings of avalanche hazard on particular slopes, forecasting knowledge and overall snow conditions.
The Brooks-Range Snow Density Gauge is offered in two models, the Pocket 100™ Snow Density Gauge, which tests 100 cc samples and the larger 200™ Snow Density Gauge, which test 200 cc samples.
For more information about Brooks-Range and their expanding selection of snow science tools, please visit: http://brooks-range.com/Snow-Science/.
About Brooks-Range
Brooks-Range Mountaineering Equipment Co. offers an innovative, top-quality selection of back country and outdoor equipment, gear and tools for professional guides, recreational travelers and users alike for a safe and enjoyable mountain experience. Brooks-Range equipment is tested and trusted by their team of ambassadors comprised of the world's top mountaineering, avalanche and outdoor experts. Designed with utility, comfort and safety in mind, Brooks-Range also promotes education and safety in the wilderness by supporting a variety of organizations. Mainly produced in the USA, Brooks-Range can be found at outdoor retail shops nationwide and online at http://www.brooks-range.com.