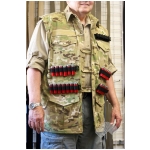 Wilderness Tactical is excited to add these two products to the growing lineup of tactical gear and accessories. We look forward to having our consumers experience and feel all the quality we put in to towards every Wilderness product
Phoenix, AZ (PRWEB) May 01, 2013
Wilderness Tactical Products continues to be on the forefront of the most up-to-date apparel and apparel accessories with the recent introduction of their new hunting shirt and vest. Unlike most of their competitors, Wilderness Tactical Products chooses to keep jobs stateside by keeping their entire product line proudly made in the U.S.A.
Their new Wilderness Hunting Shirts and Wilderness Hunting Vests are made to order to fit each person's needs. This new shirt and vest is built from the highest quality mid-weight 50/50% nylon/cotton Crye Multicam fabric. This shirt offers multiple Velcro panels to offer areas of attachment for multiple stretchable ammunition carriers as well as featuring a Velcro-closure wide waist which provides additional airflow and holster access.
This shirt can be made with optional size extenders (3x) to attach to the front buttons. These size extenders allow the vest front to be open but still offer a secure fit. This provides ventilation for those hot weather days or a tight fit over bulky winter clothing.
The Wilderness Hunting Vest is similar to the Hunting Shirt, but is meant for warmer weather wear or to layer with winter clothing.
The Vest also comes with Velcro panels to carry elastic ammunition careers, optional size extenders, flat chest pockets and bellowed hip pockets with Velcro-closure flaps. Chest pockets include the signature Sonoran Shirt inner organizer pocket to carry pens and cell phones.
"Wilderness Tactical is excited to add these two products to the growing lineup of tactical gear and accessories. We look forward to having our consumers experience and feel all the quality we put in to towards every Wilderness product," said Sam Dezonia, VP of Wilderness Tactical Products.
About Wilderness Tactical Products:
Wilderness Tactical Products, L.L.C. was founded in 1981 to fill the needs of people who demanded durable, high-quality equipment. Their products have been tested from the icy mountain peaks of South America to the blistering Sonoran desert for nearly 30 years and they have proven themselves time and again. Wilderness Tactical Products' branded products have consistently been favorites of serious outdoors people, mountain climbers, search and rescue, American Pistol Institute - 'Gunsite' personnel, as well as armed military, intelligence, police, instruction and civilian professionals around the world. For additional information please call 1-800-775-5650 or visit http://www.TheWilderness.com
Business contact:
Sam Dezonia
602-242-4945
Media contact:
Jason W. Jantzen
Phoenix Marketing Associates
http://www.phoenixmarketingassociates.com
602-282-0202