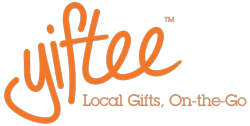 Menlo Park, CA (PRWEB) May 01, 2013
The award-winning service that lets you send gifts at favorite local places has expanded with key retailers for Mothers' Day. Go to Yiftee on the web or your smart phone, enter an address or zip code, and you will likely see one of the new featured merchants where you can buy flowers, dinners, sweets, drinks, spa treatments and boutique items. In total, Yiftee has added about 12,000 new featured merchants throughout the US at key retailers such as 1-800-FLOWERS.COM®, TGI Fridays℠, Columbia Sportswear Company Inc., Alamo Drafthouse Cinemas and Finale Desserterie.
Yiftee is also launching their "Thank a Volunteer" program for Moms. The company believes that Volunteer Moms are the backbone of local communities and is honoring these volunteers in Mothers Clubs and other local community groups by funding a pool of gifts that can be given unexpectedly to recognize their service. These gifts are given at favorite local shops and restaurants that are recommended by the clubs and sign up as Yiftee featured merchants. It costs the merchants and moms clubs nothing to participate in this virtuous cycle that strengthens local communities. To apply for the program, local organizations can email info(at)yiftee(dot)com and include your club name and contact info.
One of Yiftee's new merchants, 1-800-FLOWERS.COM, is providing several prizes for Yiftee's "Best Mom Moments" contest, in which winners receive their choice of flowers, chocolates, gift baskets, cookies, berries and/or free Yiftee gifts to send to their friends. There are three ways to win and anyone can enter by 1) posting pictures of themselves with their Mom to photos(at)yiftee(dot)com – finalists will be shared on FaceBook for public voting, 2) sharing meaningful advice from their Mom by tweeting it @yiftee and including #momsadvice or 3) sharing pithy descriptions of their Mom by tweeting three words that describe their mom @yiftee and including #threewords. Restrictions apply, details here - http://bit.ly/10SuSGs/
"1-800-FLOWERS.COM is passionate about providing our customers with an easy way to deliver a smile for all occasions including Mother's Day," says Chris McCann, President of 1-800-FLOWERS.COM, "Yiftee is an exciting innovation, allowing customers to locate our stores down the street or across the country and deliver a smile with one of our truly original arrangements or gourmet gifts, that the recipient is able to conveniently pick up at their local store. We are thrilled to team with Yiftee to celebrate Mom this Mother's Day."
Yiftee gifts are for Mom-friends, friends' Moms or your own dear Mother. To send one, customers download the Yiftee app to their smart phones or go to yiftee.com on the web and choose a gift at a local merchant, specify the recipient, and pay for the gift. Mom immediately gets the gift notice via Facebook, email, and/or text, along with a single use digital voucher to pay for it, and gift/merchant description. Mom takes her phone to the merchant, shows the digital voucher, and gets her gift!
About Yiftee™, Local Gifts, On-the-Go
Yiftee (http://www.yiftee.com) (launched in December 2012) is an exciting new mobile app and Internet service that lets consumers send thoughtful, unexpected gifts (most under $20) among friends, family and colleagues quickly and easily via email, mobile and social media. Yiftee gifts are real items that the recipients pick up using their smart phones and tablets at favorite local restaurants and shops, driving profitable business to local merchants. To be featured, merchants simply sign up at https://yiftee.com/enroll_your_business; there is no cost, no commitment, no special technology and no discounting required. Merchants gain additional sales, foot traffic and a free mobile/web sales channel. Please see yiftee.com to give your gift and spread the Yiftee love.
For more information, contact Melanie Anderson, Melanie(at)PitchPublicRelations(dot)com, 480-225-7148.